By Debbie Adams
Thanks to the Friends of the Blue Ridge, the Roanoke Valley-Alleghany Regional Commission RIDE Solutions, and Cox Conserves Heroes, the Town of Vinton has a new bike rack at the Vinton Library. The four-bike rack is located at the corner of East Cleveland and South Pollard, just across the street from the Metro bus stop, and convenient not just to the library but to the Municipal Building and downtown businesses.
Present for the unveiling of the new bike rack on March 8 were Vinton Mayor Brad Grose, Director of RIDE Solutions Andrea Garland, Executive Director of Friends of the Blue Ridge Julie Whalen, Vinton Planning and Zoning Director Anita McMillan, Vinton Assistant Planning and Zoning Director Nathan McClung, Vinton Economic Development Specialist Marshall Stanley, Vinton Police Sgt. Brandon Alterio, and Barbara Duerk from Friends of the Blue Ridge.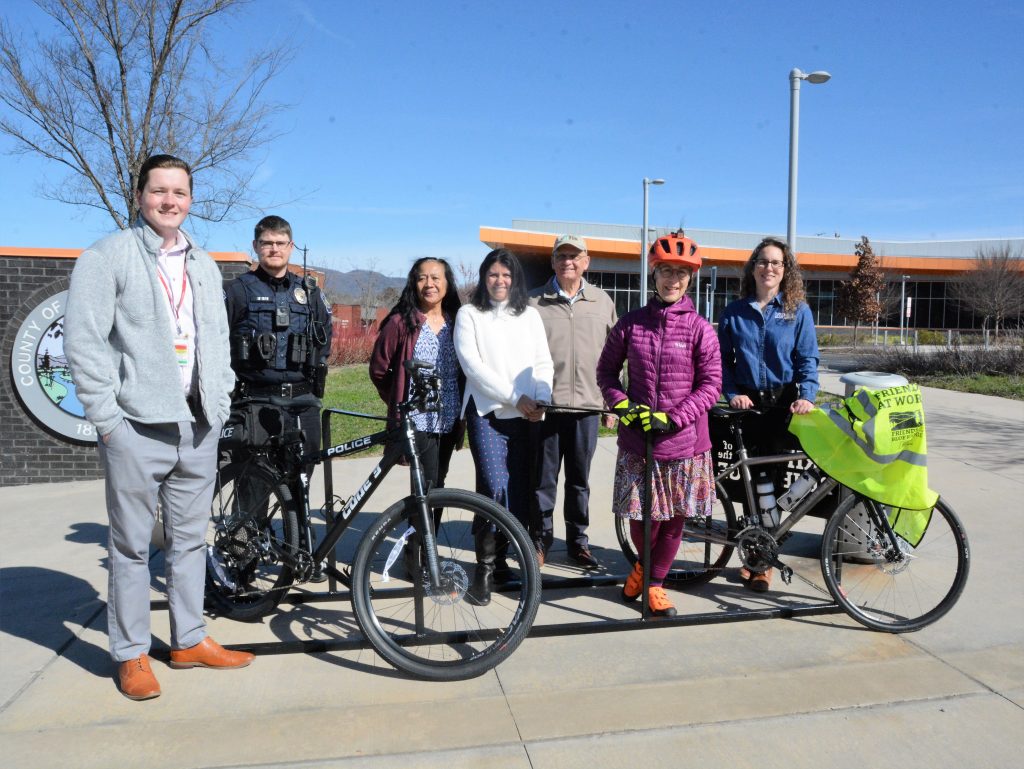 According to Whalen, "Barbara Duerk won the Cox Conserves Heroes award several years ago and designated FRIENDS as the recipient. As an avid bike supporter, Barbara suggested purchasing bike racks for the community using the remaining funds of that award."
"In reaching out to a couple of local contacts on the best way to do that, FRIENDS was connected with RIDE Solutions," Whalen commented. "From there, FRIENDS and RIDE Solutions worked with Twist & Turns to design a custom rack that is functional and beautiful," Whalen said. "Andrea Garland's expertise was vital in getting that done."
"We ordered six racks with one of them being placed in Vinton. We intend to continue and grow the bike rack project with more in the greater Roanoke area as well as other Blue Ridge communities where our other seven volunteer chapters operate."
Cox Conserves Heroes recognizes volunteers who are creating, preserving, or enhancing outdoor spaces. Since 2008, more than 200 volunteers across the nation have been honored for helping make a significant impact on sustainability and environmental protection in their communities. More than $1.4 million has been donated to environmental non-profits on behalf of the Cox Conserves Heroes program.
RIDE Solutions provides alternative transportation options – ridesharing, biking, public transit, walking, and guaranteed ride home services – to residents living within the greater New River and Roanoke Valleys. They partner with citizens and businesses to connect them with commuting options – beyond the single-occupancy vehicle – to access work and school.
Vinton was the first locality to receive a bike rack funded by the project, indicating, Whalen says, "the vibrancy of the community."