By Debbie Adams
World famous pediatric neurosurgeon and the 17th Secretary of the U. S. Department of Housing
and Urban Development, Dr. Ben Carson, was the guest of honor at King's Christian Academy
(KCA) on September 13.
His purpose for visiting the school was to share his program, Little Patriots, with the KCA
students. Mascot Liberty Eagle accompanied him.
The morning was divided into two sessions, one for children in grades K-5, the other for students
in grades 6-12. At the first session, Carson was joined by several local dignitaries including
Vinton Mayor Brad Grose, Roanoke City Mayor Sherman Lea, and Roanoke City Sheriff
Antonio Hash.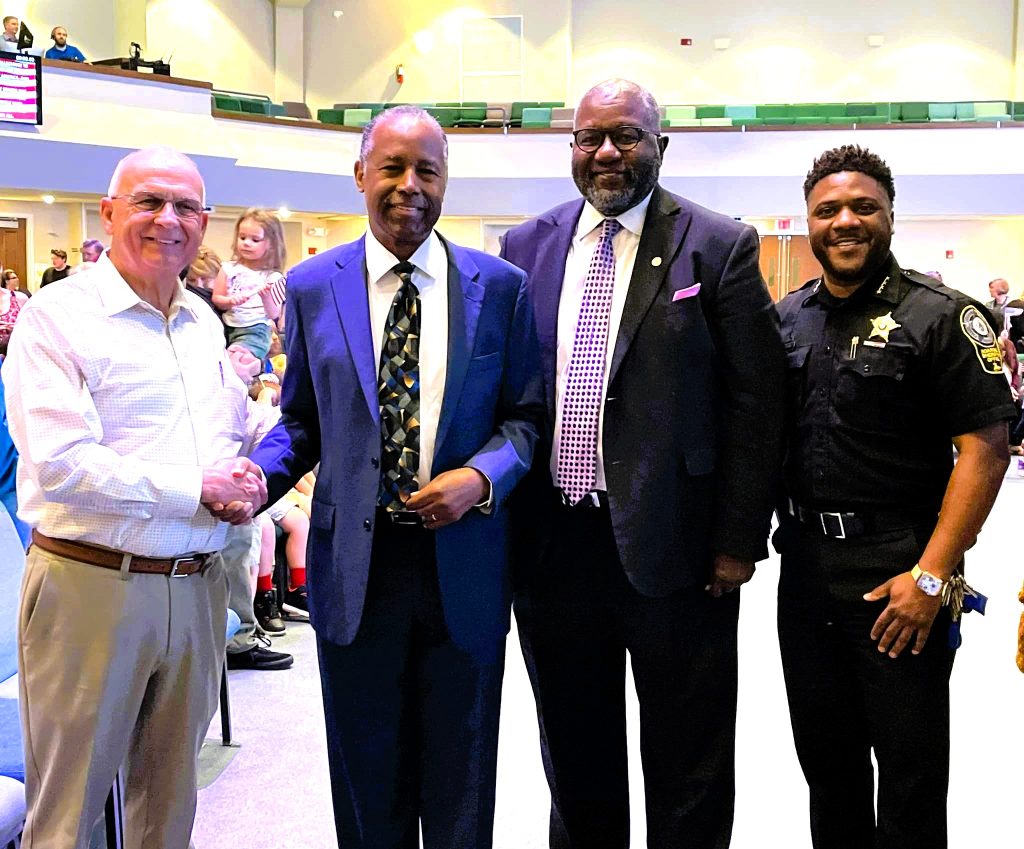 For nearly 30 years, Carson served as Director of Pediatric Neurosurgery at the Johns Hopkins Children's Center—a position he assumed when he was just 33 years old. He became the youngest major division director in the hospital's history.
In 1987, he successfully performed the first separation of craniopagus twins conjoined at the
back of the head. He also performed the first fully successful separation of type-2 vertical
craniopagus twins in 1997 in South Africa.
Mayor Grose commented that when he was shaking hands with Carson he was thinking, "These
are the hands that performed all those wonderful surgeries."
Carson has received dozens of honors and awards in recognition of his achievements including
the Presidential Medal of Freedom, the nation's highest civilian honor. He is also a recipient of
the Spingarn Medal, the highest honor bestowed by the National Association for the
Advancement of Colored People (NAACP) and has been awarded over 70 honorary doctorate
degrees. The U.S. News Media Group and Harvard's Center for Public Leadership named him
among America's Best Leaders in 2008.
He told students that he was urged to run for President of the United States in 2016 after a stellar
performance at the National Prayer Breakfast. (He said that he discovered in his travels
campaigning for president that most Americans have common sense, but what many lack is the
courage to stand up for what is right.) Carson served for four years as Secretary of the U.S.
Department of Housing and Urban Development.
Carson shared the story of his upbringing. He was born in Detroit to a single mother with a 3rd
grade education who worked multiple jobs to support their family and whose top priority for her
two sons became their education. She raised them to love reading and learning.
Although initially Carson was a "terrible student," he graduated from Yale University and earned
his M.D. from the University of Michigan Medical School.
Carson is the founder and Chairman of the American Cornerstone Institute, a new think tank/do
tank whose mission is to promote the four founding principles which are cornerstones of our
country: faith, liberty, community, and life as well as pursue common sense solutions that
challenge conventional groupthink. That is the central theme of the non-profit Little Patriots
program and of his visit to King's Academy.
The younger students listened to Carson read from his book, "Red, White, and Blue: Our Flag
Matters to Me and You." Each child received a copy of the book to take home. Students watched
a cartoon about the national anthem, its history, and the events that led Francis Scott Key to write
the song. Carson talked about how the American flag was designed over the years representing
the addition of colonies and states.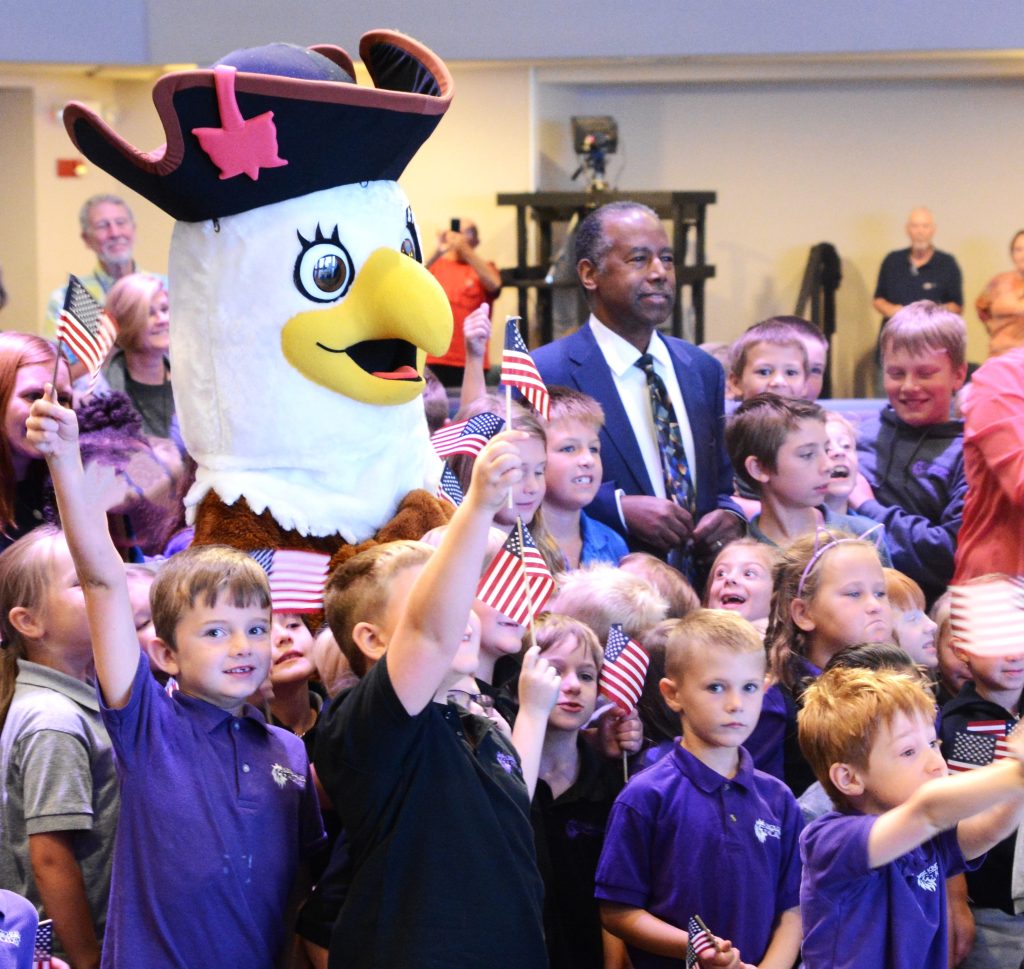 In the upper chapel he challenged middle and high school students to use their God given gifts
and to trust Him to guide their futures. Carson explained that one strategy he used to improve his
mind was to memorize passages from the Bible. He even described in great detail (upon request)
the surgery and techniques used in separating the brains of the babies he operated on.
Carson urged both groups of students to become voters when they become adults and spoke of
the importance of the military in defending our freedoms. He asked them to remember and honor
those who have sacrificed to make sure we are free.
The former presidential candidate talked about the freedoms of Americans that others often
don't—the freedom to pray, to travel, to live where you want, to worship, to invent.
Carson discussed the U. S. Constitution and his belief that our country was ordained by faith in
God.
He has authored nine books, four of them with his wife. One of the most memorable is his
autobiography, "Gifted Hands," which details how he overcame a childhood of poverty, thanks
in great part to his determined mother. Carson decided at age 8 that he would become a doctor,
despite the obstacles, and then came to realize that "God doesn't dispense talent based on skin
color."
Carson recalled one counselor who actually discouraged him from fulfilling his dream. He came
to understand that "the person who has the most influence on your life is you. You make the
decisions." He resolved to stop listening to negative people; he read constantly and went from
the bottom of the class to the top in 18 months. Carson said he realized that he had the same
brain when he was at the bottom of the class as he did at the top of the class—he just had to
make the right choices. The doctor also had to figure out how he learned best and he needed to
trust in God's guidance.
He repeatedly emphasized that people are made in the image of God, even their brains—so the
sky is the limit.
Carson and his wife Candy co-founded the Carson Scholars Fund, which recognizes young
people of all backgrounds for exceptional academic and humanitarian accomplishments.
The fund is currently operating in 50 states and the District of Columbia, and this year is
celebrating the 25th anniversary of their first awards ceremony. In honor of that, the organization
has now awarded a total of more than 10,000 scholars, as well as more than $8 million in
scholarships. Before the end of this year the Carson Scholars will have installed more than 250
Ben Carson Reading Rooms around the country.
The Carsons have been married for 48 years and are the proud parents of three adult sons and
eight grandchildren.
"It was indeed a great honor to meet Dr. Ben Carson," Grose commented. "I have admired him
for many years. Dr. Carson is certainly one of the most accomplished men in modern medicine.
He is truly a gifted man, a devout Christian, and a great American. It was a blessing to meet such
a great man!"
The American Cornerstone Institute made Dr. Carson's visit possible. King's Christian Academy
is located on the campus of Parkway Church on the Mountain.