By Debbie Adams
The Vinton Area Chamber of Commerce celebrated Expect More Home Inspections at a ribbon-cutting ceremony during "Business After Hours" on August 25. Lloyd Blankenship, the owner of Expect More Home Inspections, sponsored the Chamber event.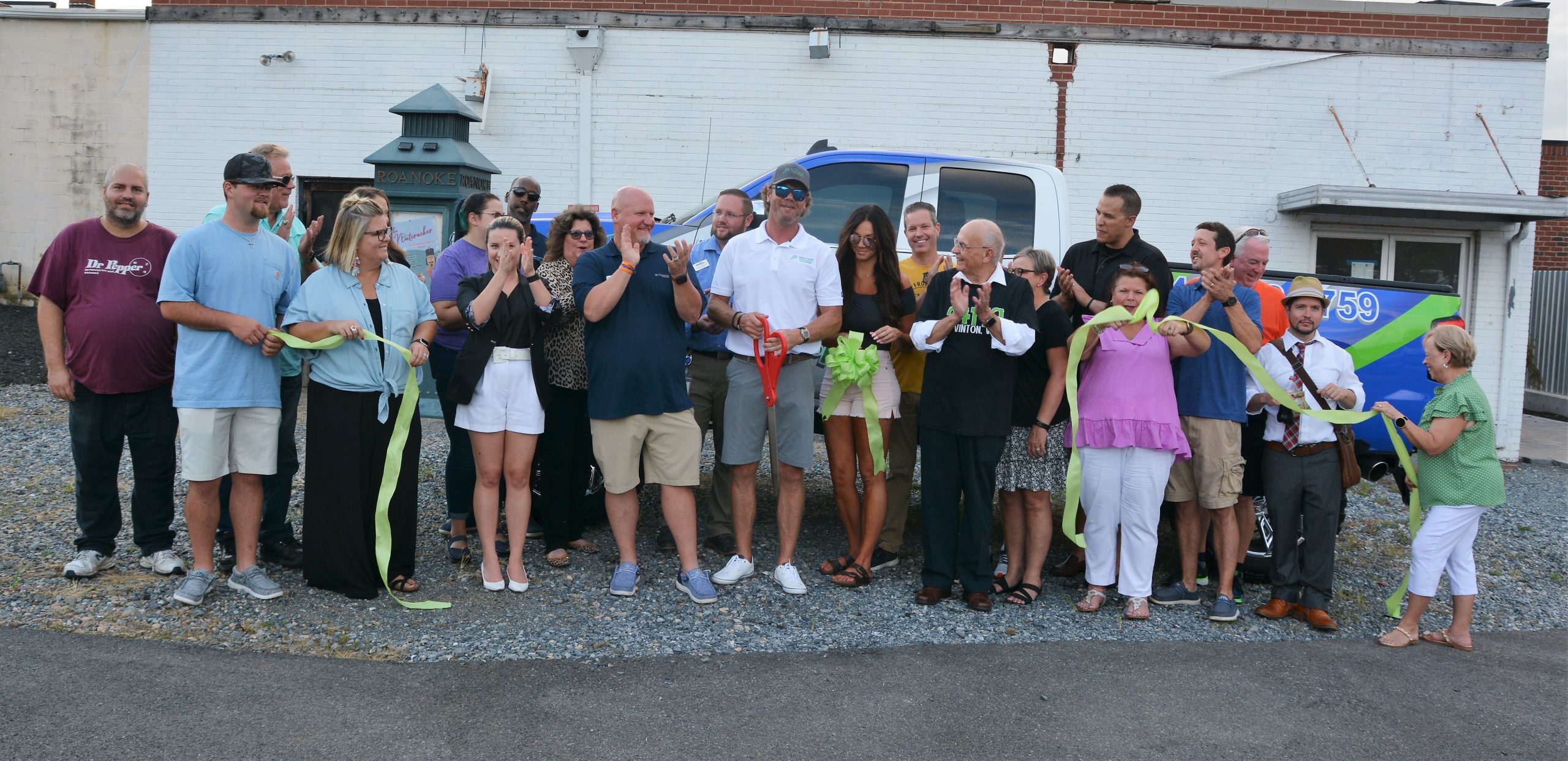 After the ribbon was cut, he was congratulated by Vinton Mayor Brad Grose, Chamber President Jason Boothe, and Chamber Executive Director Angie Chewning and welcomed to Vinton. Many area businesses who are members of the Chamber joined Blankenship for the ribbon-cutting ceremony, followed by music from Tommy Gill.
Blankenship says his goal with "Expect More" is to make sure clients receive all the necessary information to make a sound decision before purchasing a home. He has over 15 years of experience in the pest control, exterminating, and home inspections professions. He currently has one employee, Bryce Phillips.
Blankenship is a native of Goodview and a veteran who served for four years in the United States Navy. His daughter, Callie, is a senior at William Byrd High School.
After leaving the Navy, he began his career as a Pest Control Specialist and was quickly promoted to management and served the Roanoke Valley for over 15 years. He also has experience in Home Energy audits and completed over 850 audits for Appalachian Power's Home Performance Program.
Blankenship was previously co-owner of Green 1st Home Inspections, before opening his locally owned and family-operated home inspection company.
A home inspection is a visual examination of the home's major structure, systems and components that are visible and safely accessible. Standards of practice spell out what should be covered during an inspection. The inspector should provide clients with a written report, which may include photos and/or recommendations, of his or her findings from the inspection.
Expect More Home Inspections is a full-service company offering sewer scoping, water testing, and radon testing, in addition to home inspections.
Sewer scoping involves assessment of the condition of the property's sewer line to determine if the system is functioning properly. Inspectors can check for blockages, pipe cracks, roots and backups from the home to the connection at the street.
Through water testing, Expect More provides water sample testing to meet bank requirements and to provide home buyers with knowledge about their drinking water. They can test for bacteria, nitrates, nitrites, and lead.
Testing for radon indicates whether the family is at risk from high radon levels. When purchasing a home, you should know what the indoor radon level is prior to moving in. Reducing radon levels can be done effectively, inexpensively, and easily.
Blankenship says that offering this complete range of services frees Realtors from having to contact and work with several different subcontractors.
Expect More uses state-of-the-art equipment and delivers detailed, easy-to-read Spectora home inspection reports in HTML and/or PDF format on the same day of service. A Licensed Home Inspector is available to answer and explain any questions customers may have.
The home inspector should be able to discover and document defects that may or may not be obvious to a prospective buyer. Such defects can range from simple replacements or repairs to severe damage or safety and health concerns.
During the home inspection Expect More will walk through the home together with the buyer and the real estate agent to explain the general condition of the home. They will also talk about items to keep an eye on for deferred maintenance.
Depending on the home's age, size, and location, as well as the home inspector's own work protocols and ethic, a home inspection may take up to three hours. Adding square footage, outbuildings, and/or ancillary services (such as mold or radon testing) will increase that time.
Blankenship says those who are purchasing should attend the inspection and should reconsider hiring an inspector who doesn't allow this. You can learn a lot by following an inspector through the home. You will certainly gain a better understanding of the home's condition, which will give insight into its potential sale points and defects. Additionally, you will likely learn information about the home's maintenance, systems and components that may provide useful for the transaction.
If your home inspection reveals any problems, it is important to understand the severity of the defect. For example, a missing shingle or dirty air filter can be easily fixed at a low cost. However, if the defect is more extreme, such as a major foundation crack, wood-destroying organism infestation, or evidence of mold, you should find out how these problems can be addressed, and whether you can negotiate their cost with the seller.
Their website states that "Expect More understands that purchasing a home is one of the largest investments you will make in your lifetime. Being informed about the home you are investing in is wise."
Whether you are building, buying, selling, or maintaining your home, Expect More Home Inspections provides professional service from the moment you contact them. They stringently follow the Standards of Practice for home inspectors established by InterNACHI, America's most respected home inspection association.
For more information on Expect More Home Inspections, visit their website at https://expectmorehomeinspections.com , call 540-312-3759, email lloyd@expectmorehomeinsptections.com or visit their Facebook page, https://www.facebook.com/expectmorehomeinspections/.