By Debbie Adams
Fabricio Drumond has been appointed to serve as chief of police in Vinton, effective December 1. He has served as the interim police chief since July 21, assuming the role after former Police Chief Thomas L. Foster left the town to become the United States Marshal for the Western District of Virginia.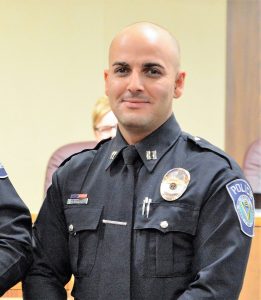 Chief Drumond joined the town in 2009 as an pfficer and was promoted to deputy police chief in February 2017.
"Fabricio Drumond will be a great leader for the Police Department in the Town of Vinton," said Vinton Mayor Brad Grose. "We are indeed fortunate to have someone with his qualifications within our own ranks. Chief Drummond's experience, training, education, and natural ability are all particularly important factors in making him the perfect candidate for the position of chief of police.
"Fabricio's outstanding leadership and command abilities are evident to everyone who interacts with him," Grose said. "However, his concern for his fellow man in general and especially for the citizens of Vinton make him uniquely qualified to be the chief of police in our community. I am convinced that his concern for the safety and well-being of the citizens of Vinton will elevate an already well-respected Police Department to an even higher level of service."
Drumond graduated in 2000 from Maynard High School in Maynard, Mass., and enlisted in the United States Marine Corps shortly thereafter and served until 2006. During his time in the USMC, he was meritoriously promoted to private first class, lance corporal, and corporal and the final rank of sergeant. He spent much of his time in the military deployed overseas in Afghanistan, Iraq and Djibouti, and in Cuba.
He has a multidisciplinary Bachelor's Degree, specializing in both Criminal Justice and Business and a Master's Degree in National Security, both from Liberty University.
Drumond began his career in law enforcement with the Roanoke Police Department in 2006.
During his tenure with Vinton, Drumond has obtained several Law Enforcement specialties, such as field training officer, general instructor, and TASER instructor, and actively trained law enforcement recruits in both formal classroom instruction and officer survival applications.
He has been the recipient of drug recognition awards, personal and unit citations, leadership awards, and Officer of the Year and has attended several critical leadership and management courses, most notably by the Virginia Association of Chief of Police and the Federal Bureau of Investigation (FBI) Leadership Development Courses. He is a strong advocate for community policing.
"It is a great honor and privilege to serve as the chief of police for Town of Vinton," Drumond said. "Together, as a community, we will continue to fortify the relationship with our residents and the people we serve. United, our destiny for success and a safe community will be unshakable. I take great pride in having the privilege to serve amongst the men and women of the Vinton Police Department who have an unwavering passion towards the dedication of service to our wonderful community."
"Fabricio came highly recommended from our previous chief, Tom Foster, and he has not disappointed us," said Vice Mayor Sabrina McCarty.  "He has gained the respect of the police department, the citizens, the staff and Town Council.  He has an amazing resume of past work experiences that truly qualify him for this position.  He is a perfect fit for the Town of Vinton.  I welcome him as chief of police and look forward to the astounding job that he will perform. It is an honor to have him employed with the Town of Vinton."
"We are excited to be able to work with Chief Drumond as he transitions into his new role as the town's police chief," Grose said. "I have had the honor to work with Chief Drumond in many different capacities over the years, and I look forward to watching him as he ensures that Vinton remains a safe community. The chief of police is a crucial position and Town Council is pleased to have such a well-qualified candidate already within the department ready to step forward into this leadership role, and he has our full confidence to serve in this capacity."
Members of the Vinton Police Department paid tribute to Chief Drumond at their annual awards dinner in October.
"Chief Drumond has distinguished himself as a leader and humanitarian," said Sgt. Michael Caldwell. "Those who have worked with him have undoubtedly witnessed his approach to policing. He always treats those he serves with compassion, while still doing what is necessary to restore order. He embodies the quote, 'You can be tough as nails and still be a gentleman.' He is a leader, and just as importantly, he is a friend to all who know him."
Caldwell shared a war story about Chief Drumond from a Marine Corps publication in December 2005, entitled "Marine uses first aid skills, saves children." Here are some excerpts:
"Improvised explosive devices are unbiased in their targets. It can kill and maim anyone who sets it off, regardless of nationality, religious preference, age, or sex. Cpl. Fabricio Drumond, an antitank assault man with 1st Mobile Assault Platoon (MAP), Weapons Company, 3rd Battalion, 6th Marine Regiment, witnessed such disregard.
"We were escorting combat engineers with dump trucks filled with gravel being taken to Battle Position Iwo Jima," said Drumond. "After about an hour, my gunner heard an explosion nearby." Soon after the explosion, which occurred in the Iraqi town of Sa'dah where 1st MAP was operating, Drumond got word from his superiors to check it out.
"We started moving down and as soon as we took a right, an Iraqi woman comes out in the street crying," Drumond said.
Drumond stepped out of the vehicle and began to talk to the woman, using skills he learned in a crash course on speaking Arabic before deploying.
"She told me a bomb blew up," he said.
Drumond was faced with what some might consider a living nightmare. Iraqi men, fathers, carried out their children who had been injured by an insurgent buried IED.
"They told me the kids had been out playing soccer when it happened," Drumond said.
The children had lacerations and puncture wounds to their lower extremities. The scene was a chaotic mess of wounded children and screaming and crying parents and concerned local Iraqis.
"I immediately got my combat lifesaver bag and started going through the larger wounds," said Drumond. "Some had torn arteries; there was a lot of blood."
Drumond, 23 years of age, started patching up the kids as fellow marines of his platoon arrived.
"We called in a medical evacuation helicopter for them. All the while, I kept pressure on their wounds to stop the bleeding."
While the MEDVAC helicopter made its way to them, Drumond and the Marines of 1st MAP took the kids to the nearest major road to await the flight. When the helicopter arrived, the children were loaded up, along with a parent, and flown to a nearby hospital for further treatment.
"The biggest thing that I tried to do was to keep them smiling; I can't imagine how much it must have hurt,' he said. "They were just little kids, seven or eight years old. They were innocent, never did anything to anyone. They just wanted to play."
Drumond credited his ability to efficiently use basic first aid to the classes he received before deploying.
"We got a lot of first aid classes over and over again and sometimes it got boring," he said. "But, I listened to the corpsman teaching because I had a feeling I might have to use it. Every Marine is a rifleman, and every Marine should know his first aid."
Drumond has been married for 10 years to Julianna Drumond and has two stepchildren, Dakota and Morgan, and one daughter, Athena.