By Debbie Adams
If you ever want to see joy in action, visit the Defy Gravity Training Center in Vinton. The facility held an Open House on November 7 and was filled with boisterous children zipping, tumbling, bouncing, and flying through the air, having the time of their lives.
Defy Gravity has been in Vinton for almost five years, located at River Park Shopping Center on Bypass Road. It started in one space and then grew into the space next door—knocking out the wall to make just one huge room. Jonathan Hatcher has been the sole owner since 2014.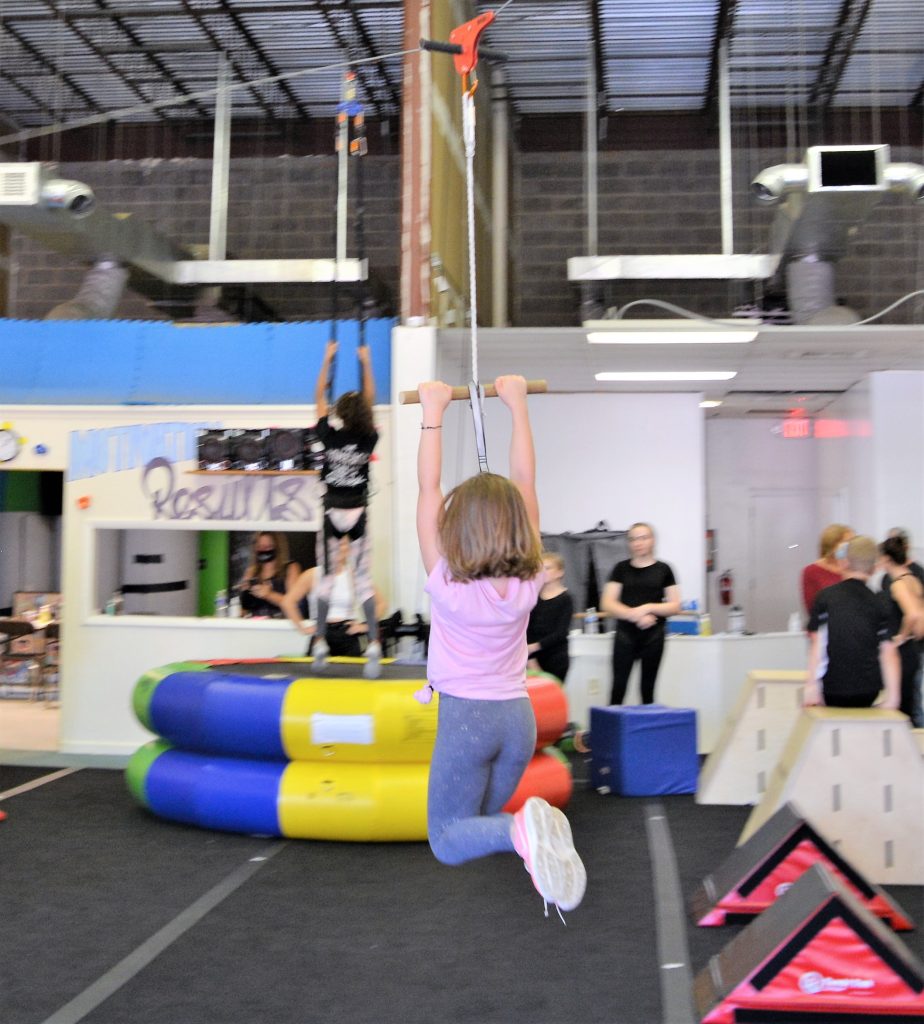 Hatcher has 24 years of experience coaching gymnastics and cheer tumble, with 10 years experience coaching acrobatic tumble and personal training. From 2005 to 2014 he was the owner and CEO of Excel Tumble Safe Sport. In 2013 he started to compete in NPC Competitions. He worked as a geotechnical/structural engineering field technician from 2011-2013 and then as a rep and Street Team Athlete at ProSupps from 2014-2017, before focusing on Defy Gravity and also DG Ninja Kids. His certifications include USAG, USASF, NCSSE, NASM, and FITOUR.
Hatcher's private lessons begin daily at 8 a.m. and run through the day; some days the last lesson is at 8 p.m.
Hatcher has assembled a highly qualified and certified group of coaches at Defy Gravity including Cheer and Tumble Coach Shannon McCulloch, Tumble Coaches Afton Brennan and Chris Graham, Aerial Coach Liz Minnick, and Cheer Team Coaches Valerie Counts and Morgan Edberg.
Coach McCulloch has over 20 years of cheerleading experience with six years sideline and competitive cheer, 14 years of experience judging cheer programs, three years coaching middle school, and six years coordinating and coaching rec cheer.
Coach Brennan has been a competitive gymnast for nine years with 18 years of experience as a recreational gymnastics class instructor, 15 of those years as a competitive gymnastics team coach for the Virginia Women's Gymnastics program, three years coaching the North Carolina Men's Gymnastics program, and worked as a visiting coach for Flip Fest Gymnastics camp in Tennessee. She was a high school and college cheerleader and worked as an instructor for the Eastern Cheerleaders Association. She has been a cheer/tumbling class instructor for many years and teaching at Defy Gravity since 2019.
Aerial Acrobatics Coach Minnick  has 15 years of experience and founded Single Point Aerial Dance Company. She is a competitive Aerialist and Performer whose background is with Cirque Du Soleil and Cirque Du Monde, coaching multiple Aerial Apparatuses, Tumbling, Flexibility, Acrobatic Dance, Women's Competitive Gymnastics, Social Circus, and Yoga. She is currently creating her own Acrobatic Training Curriculum.
Coach Edberg has many years of personal experience in cheerleading, gymnastics, and competitive dance, including back to back State Championship titles in competitive cheer, three years of experience coaching rec cheer, three years serving as a VHSL Cheer Official, and now a coach for high school cheer.
Coach Counts has over 15 years of cheer experience including rec/middle/high school cheer, with four years of competition cheer, and three years of experience coaching rec cheer through the Vinton Booster Club.
Coach Graham has eight years of experience in Allstar and sideline cheer. He is retired from the military and has coached at Defy Gravity since 2019.
Defy Gravity enrolls children ages four and up. Both boys and girls are welcome to all classes.
Here is a sampling of classes currently available at Defy Gravity:
Mondays 6-7 p.m. Little Ninja Warriors for ages 4-8; Dance Tumble from 7-8 p.m.
Tuesdays 6-7 p.m. Beginner Tumble; 7-8 p.m. Cheer Fundamentals 1 for grades K-6
Wednesdays 5:45- 7:30 p.m. Competition Cheer Team Practice; 7:30 to 8:30 p.m. Cheer Fundamentals 2 for grades 7-12
Thursdays 6-7 p.m. Intermediate Tumble; 7-8 p.m. Open Gym
Fridays 6-7 p.m. Middle/High School Beginner/Intermediate Tumble; 7-8 p.m. Ninja Warriors ages 8 and up
Classes are monthly. The Class Fee is $50.00 a month.
The Training Center also offers competition cheer teams from November through April, with fees of $125/month.
Private lessons at Defy Gravity from Sunday through Saturday start 8 a.m. and are one-hour sessions though the day, with the last one from 7-8 p.m. The cost is $50/hour.
Defy Gravity is also considering adding a parent/tot class on a weekend morning if there is enough interest.
In addition, Coach Liz rents space at Defy Gravity for her Single Point Aerial Company, which offers competition through her program with classes from 3:30 to 5:30. She also coaches for Defy Gravity classes on Monday, Tuesday, and Thursday nights.
Prior to COVID, Defy Gravity offered day camps and afterschool programs. Hopefully, they will resume after restrictions are lifted.
All classes and team information are posted on the Defy Gravity Facebook page. Please visit and "like."