Commander Jeremy Obenchain retired from the United States Coast Guard on May 20, 2022. Obenchain is the son of Billy and Karen Obenchain and a 1995 graduate of William Byrd High School. He graduated from Virginia Military Institute in 1999 with a degree in International Affairs.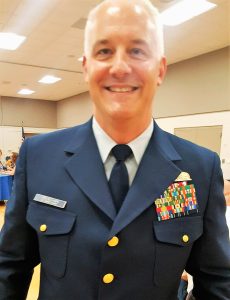 He joined the Coast Guard in 2002 and served his country in an illustrious career. From 2004-2006, he served as Deployable Team Leader on Law Enforcement Detachment 404 at U. S. Coast Guard Tactical Law Enforcement Team South. In this role, Obenchain deployed to the Eastern Pacific Ocean, where the team interdicted cocaine bound for the United States. The team also operated in the Middle East, in the Arabian Gulf, the Gulf of Aden, and Iraq.
In 2007, Obenchain was selected as one of three Coast Guard Congressional Fellows to serve in the United States House of Representatives. In this role, he served for two years as advisor to the Ranking Member of the Homeland Security Committee and to the Ranking Member of the Subcommittee on Border, Maritime, and Global Counterterrorism responsible for Coast Guard oversight and national/homeland security issues.
From 2009-2011, CDR Obenchain served as the Future Operations and Middle East Training Team Leader at Patrol Forces in Southwest Asia.
After successfully completing Arabic Language training at the Foreign Service Institute in Arlington in 2011, he served at U. S. Coast Guard Activities Europe in The Netherlands as a Port Security Liaison Officer working throughout North Africa and the Middle East.
From 2014 to 2016, CDR Obenchain served as the Coast Guard's Liaison to U. S. Naval Forces Central Command in Bahrain.
He was next assigned to the U. S. Embassy in Manila in the Philippines where he advised the Philippine Coast Guard and Philippine National Coast Watch System.
In July 2019, CDR Obenchain reported to the Department of State Bureau of International Narcotics and Law Enforcement (INL) Affairs Office of Europe and Asia as the Coast Guard Liaison Officer. There he served as the INL Indonesia Program Officer, advised on maritime law enforcement capacity building, and worked across the Department on behalf of the U. S. Coast Guard.
Commander Obenchain's awards include the Defense Meritorious Service Medal, three Meritorius Service Medals, three USCG Guard Commendation Medals, four USCG Achievement Medals, four USCG Service Ribbons, Army and Navy Achievement Medals, and Department of State Franklin and Eagle Awards.
Commander Obenchain and his wife, Yee Loo, their two daughters, Olivia and Natalie, and shih tzu Mako will travel before settling somewhere between the mid-Atlantic and Southeast Asia.