By Debbie Adams
While the William Byrd High School Class of 2020 did not have their traditional graduation procession at the Salem Civic Center, marching in to "Pomp and Circumstance" and walking across the stage to receive their diplomas— nevertheless, thanks to the administration and staff at WBHS, Roanoke County Schools, the Town of Vinton, the students' families, and the Vinton community, the students had a Senior Parade through the entire Town of Vinton, which they and the town will remember forever.
Once schools closed due to COVID-19 in March and as the spring progressed, it became apparent that they would not reopen this school year and that treasured senior activities and traditions like prom and graduation would be cancelled or postponed indefinitely.
Teachers, administrators, parents, churches, businesses, and organizations became determined to salvage some aspects of senior year for the graduating Terriers. And although students graduated online on May 19 with Graduation Part 1, there is still a determination by all to hold Graduation Part 2, live and in person as soon as possible in the coming months.
It is mind-boggling to think about the logistics of how William Byrd's Class of 2020 Senior Parade were even organized with 261 graduates to consider and include—and it went off virtually without a hitch.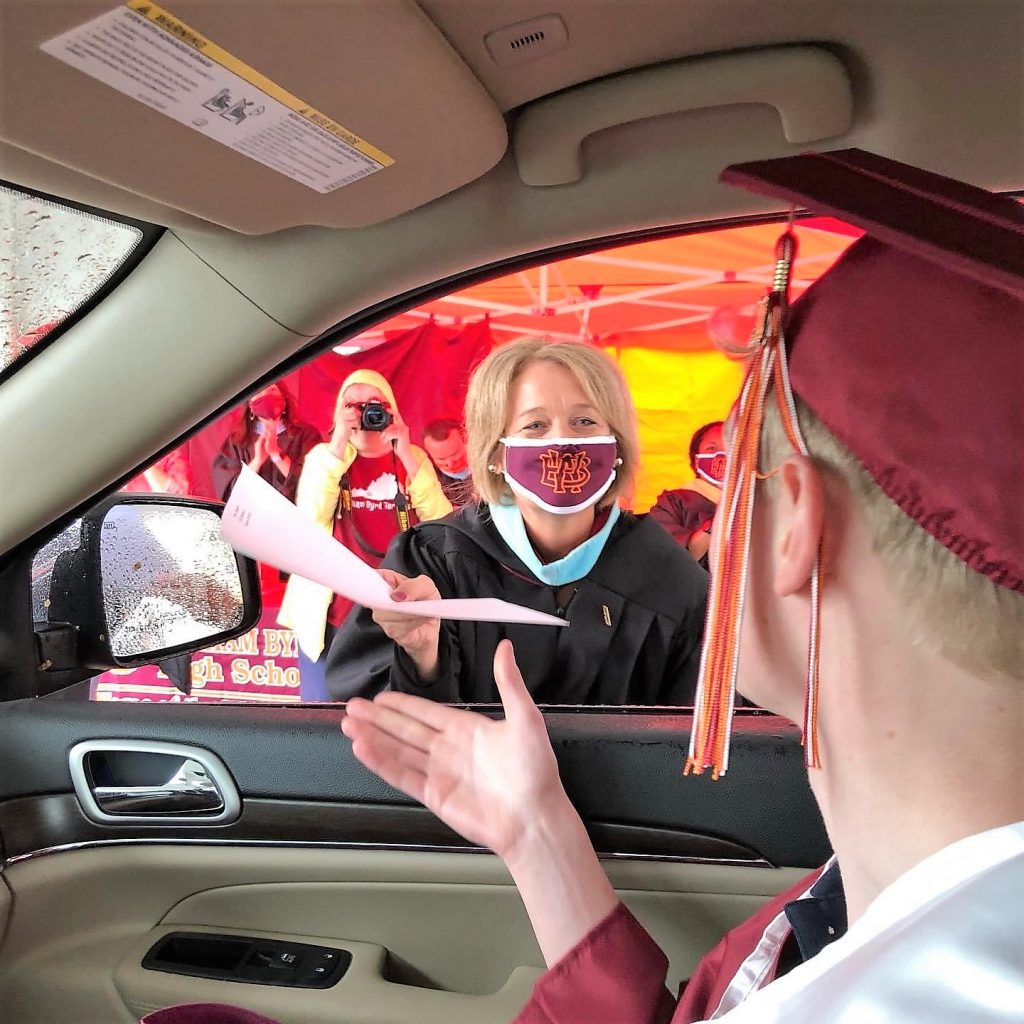 Students and their families (limited to one car—which they were encouraged to decorate for the occasion) were asked to assemble in the parking lot of Rosie's Gaming Emporium mid-morning on May 19. They were asked to have their name on their car to help facilitate the distribution of diplomas once they reached the high school.
Principal Tammy Newcomb and Assistant Principal Alan Moore greeted each car and graduate at Rosie's as they remained in their cars, distributing flyers detailing the parade route through Vinton. Other members of the middle school and high school staff, the Vinton Police, and the Roanoke County Police performed traffic control–directing parking, lining the vehicles up in neat rows awaiting their departure at 10:45 which would take them winding through the streets of downtown Vinton and eventually up Washington Avenue to the high school.
Vinton Police Chief Tom Foster led off the procession, followed by Newcomb, the Terrier Mascot, and this year's Top Terrier, Emily Nicely, in their own vehicles.
Each spring graduating seniors from William Byrd traditionally visit their elementary schools to be congratulated by their former teachers for their accomplishments in completing their high school careers. Since that wasn't possible this year, the elementary teachers from Mount Pleasant, Bonsack, Herman L. Horn, and W.E. Cundiff Elementary Schools came to them—lining the parade route to cheer them on.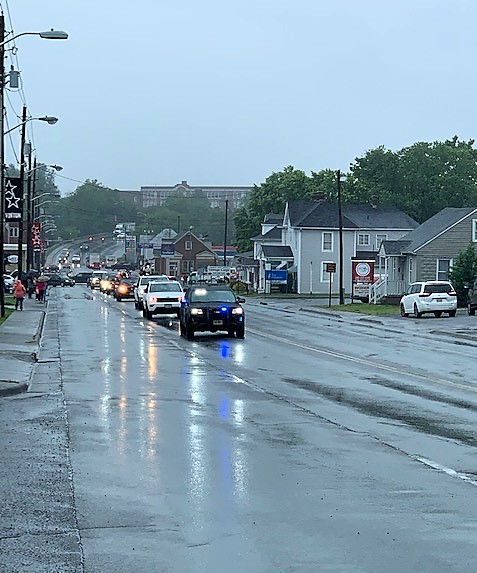 Extended families, neighbors, and the community at large lined the route as well—dressed in maroon and orange, with congratulatory banners and balloons.
Only cars with seniors and their families were permitted into the parking lot at the high school. They wound in an orderly line through the parking lot, past cheering teachers and staff, and circled around to the former front entrance of the high school, where Newcomb waited under a tent to congratulate them individually and present them with their diplomas. "Pomp and Circumstance" was broadcast over a loudspeaker.
Tim Greenway, who represents Vinton on the School Board, was there as well, to offer congratulations, along with the Terrier Mascot. Superintendent of Schools Dr. Ken Nicely was actually in the Senior Parade, driving his daughter, Emily, a WBHS graduate.
The entire guidance staff waited under the tents to locate diplomas for each individual student and offered up cheers for students passing by.
All in all, despite some fairly heavy rain and chilly temperatures, the Senior Parade and distribution of diplomas at the high school turned out to be a unique and memorable occasion providing an unforgettable end to an extraordinary year.