By Debbie Adams
Voters in the Town of Vinton are urged to vote an absentee ballot for the Town Council election to be held on Tuesday, May 19. The deadline to request an absentee ballot is May 12. Ballots must be returned by 7 p.m. on May 19. The election was originally scheduled for May 5 but was postponed for two weeks by Governor Ralph Northam's executive order due to the COVID-19 pandemic.
For those who choose not to vote absentee, voting for both North and South Vinton precincts will be held in the Treasurer's Office at the Municipal building as the office has glass partitions and enough space for social distancing for voters and election workers.
Three candidates are running for three seats on council. Brad Grose is running unopposed to remain as Vinton's mayor. Vice Mayor Keith Liles is running to retain his seat on council. Laurie Mullins is running to fill the seat left vacant by Janet Scheid who is not seeking re-election.
Grose was first elected to town council in 2000. He was elected Mayor in 2004 and has served in that position ever since. Before being elected to council, he served on the Vinton Planning Commission for nine years.
Grose is the owner and president of Dominion Electronics in Vinton. He is a United States Army veteran having served from 1966 to 1968.
He is the Chairman of the Roanoke Valley-Alleghany Regional Commission and serves on the Vinton Area Chamber of Commerce Board of Directors. He served for two terms as Chamber president.
Grose is a member of the Vinton Vision Committee and a board member of the Roanoke Valley Economic Development Partnership.
He and his wife Debby have been married for 41 years and have two daughters.
"It has certainly been an honor to be part of a great team during a tremendous time of growth and progress in the Town of Vinton," Grose said. "Much has been accomplished in our town and many more great advancements are in the future."
"I am very grateful for the entire Town of Vinton staff and their performance during the past several weeks. Our citizens can rest assured that the essential services will continue to be provided to our community. With God's help, we will get through this together and we will be a better, stronger, and closer community."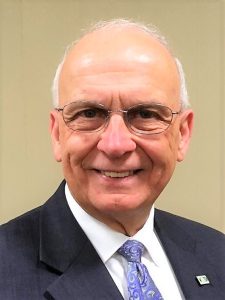 Keith Liles grew up in the Town of Vinton–since the third grade–and is currently employed by Allstate Insurance Company.
"Vinton has always been my home, and I love the sense of community it possesses and the direction we are heading," Liles said.
Liles graduated from William Byrd in 1988 and currently resides in the Dillon Woods neighborhood with his high school sweetheart, now his wife, Lisa.
He also serves as chairman of the Vinton Planning Commission, as a member of the Vinton Economic Development Committee and on the Roanoke Valley Transportation Planning Organization. He is a former board member of the Vinton Area Chamber of Commerce, serving nine years.
"It's hard to believe four years have passed and my first term on Town Council is coming to an end," said Liles. "In this short time, we've seen some far-fetched ideas come to reality. We now have two former vacant school buildings transformed into living space on each side of our downtown, creating downtown living on a massive scale for the very first time. Our downtown is starting to come alive and once again is attracting new business ventures for our citizens to frequent and enjoy."
"Our town continues to see economic development throughout the town–the great addition of Rosie's Gaming, FarmBurguesa and soon-to-be Vinyard Station–to add to the number of wonderful restaurants and recreation vINton already provides."
"Gish's Mill, the old High's Ice Cream, and the extension of the Greenway are just a few projects that will add to the excitement with many more planned for the near future. I'm extremely proud of the accomplishments the town staff and council have completed over the last four years."
"Although we continue to see positive transformation, we are now facing uncertain times within our Town, our State and our Country," Liles added. "However, during these times, it's been comforting to see our citizens supporting and promoting our vINton businesses, caring for their neighbors, and staying committed to helping resolve this serious issue. I feel certain we can and will weather any storm together and continue to flourish in the years to come."
"I've learned a lot over this last four years,' Liles said. "I've learned it takes patience, dedication, and teamwork to accomplish short- and long-term goals. I've learned our citizens care deeply for their town and it takes a community to create a hometown.  I've also learned not everyone has the same vision, and some take a little longer to see the vision and embrace change.  However, at the end of the day, if it has progressed our town, it was worth it."
"I look forward to continuing the vision and momentum we have in place and serving the great citizens of the town, and I know the Town of Vinton will prevail and I'm certain we will become an even stronger community after this," Liles said.
Laurie Mullins has spent her entire life in Vinton, except for the four years she attended Virginia Tech to earn her Bachelor of Science degree in Horticulture in 1995.
"My parents moved to Dillon Woods in 1981," said Mullins. "I attended Hardy Road Elementary and William Byrd Junior and High School (Class of 1991).  Her husband Tommy's family owns the Vinton Pawn Shop.
"I have been blessed beyond measure to be a stay-at-home mom to Natalie, who is a junior at Byrd. During her elementary years at W.E. Cundiff, I volunteered in the classroom and held many positions on the PTA, including president for two years," said Mullins. "I also served as PTA president at William Byrd Middle School."
"I enjoy supporting the William Byrd girls' tennis team and am a member of the Roanoke Rail Yard Dawgs Booster Club.  I have been active in the National Multiple Sclerosis Society through fundraising for several years. I am a member of Bedrock Church Roanoke since their beginning in 2011 when our meeting place was William Byrd Middle School."
"I have always loved Vinton– the feel of community, safety, the friendliness of the people, and cleanliness," she continued. "Vinton is a great place to raise a family, and I would love for more families to stay here through the generations."
"This is definitely an unconventional election season!" said Mullins. "I have missed the colorful election signs dotting the roadways, the many conversations with town citizens, meeting new people at the Dogwood Festival, and the preparations for greeting everyone at the polls.  I am disappointed that I couldn't visit Gladetown, Midway, and the Mountain View Road area to introduce myself."
"Things have changed for all of us in the last two months and change can be unnerving.  Some things will never change.  First, my dedication and love for the Town of Vinton and its citizens. I am a life-long resident and plan on remaining here.  I truly care about the growth and direction that our town is going.  Second, my attention to detail and work ethic.  I will jump in with both feet and work with the Mayor and other members of council to keep the town running smoothly.  Lastly, my appreciation of the love and support I have felt through this process. The next few months will continue to be challenging, but the strong people who call Vinton home will persevere.  Our businesses will reopen, friends will share a meal at our wonderful restaurants, and we will enjoy events at the farmer's market. Keeping our eyes focused on the future is what we can do right now. And that future is going to be exciting!"
Voters may contact the registrar at 772-7500 or via email at elections@roanokecountyva.gov to absentee ballots.