By Debbie Adams
When I was a child growing up in Wytheville, my dad and I would drive up on the mountain behind our house each year and cut a white pine tree for Christmas. My parents always put the tree up one week before Christmas and took it down on New Year's Day. My almost 4-year-old grandson loves trains. Last year we took a trip to Black Dog Salvage and he was fascinated with the vintage "train in a tree" there, a model train on a track up high circling the tree. We found one online this year and so our 2020 tree has a train theme. Our tree is filled with a hodge-podge of ornaments homemade by my daughter through the years and ones that we bought as souvenirs from our travels.
Pastor B. Failes says, "Our Christmas is full of trees. I think one year we maxed out at nine! We like to have themed trees – I have a 'Peanuts' tree, Jan has an Angel tree, a Noah's Ark tree, and several others. We use some small ones in hallways and corners. Since the grandchildren moved in, we use only unbreakable ornaments. We put it up on Black Friday and leave it till at least Epiphany, January 6, the end of the 12 days of Christmas. One year they stayed up well into February! This year has been exciting with the addition of our cat, Honsu, He loves the trees!"
"Our family uses an artificial tree for our Christmas decorations," shares Ashleigh Pinion. "This year we pulled out our decorations the weekend before Thanksgiving because we all needed a little extra JOY! We set up two trees in our home – one upstairs and one downstairs. Our upstairs tree holds all the ornaments we have collected together as a family from places we've traveled, and things we've seen or experienced together. It also holds ornaments that were passed down to us from family. My favorite ornaments on this tree are my turtle doves. My grandmother left those for me, and they are always placed front and center on our tree. Our downstairs tree is full of all the ornaments our family has made.  t is a mish-mash of popsicle sticks glued together, ribbons, pictures and handmade ornaments."
Beth Abbott says, "We have occasionally tried to go with the current trends or we will match our house with a pretty tree, but we always end up adding another tree somewhere to accommodate our sentimental ornaments. We have had real trees and artificial, skinny and very full trees, but Christmas is always about our special ornaments. The ornaments that were crocheted, hand beaded, hand painted, quilted, or made from clay, or given from friends or family members will always be cherished."
"When I was little we always had a real tree," says Allie Rourke. "Mom and I would go out on Black Friday and pick out the tree and make cookies and drink cocoa while decorating the tree. Mom always said that it had to be down by New Year's Day. 'Never carry the past into the New Year.'  As I got older, Christmas traditions became more special to me.  By the time I moved to Virginia Beach, I had four trees all with different themes ranging from kids' toys, to only color Waterford ornaments.  Nowadays, the tree stays up until the end of the 12 days of Christmas (January 6) and it is a little bit of my kids' stuff, homemade ornaments and, of course, my cherished Waterford ornaments."
Chasity Barbour says no artificial trees are allowed at their house. Her husband, Sean Stores, insists the family go out and get a live tree each year.
Jan Dickens recalls, "When I was growing up, in the dark ages, my dad always put the live tree up on Christmas Eve. Then the story was that Santa Claus would decorate it! I never wondered how he had time after visiting our house – there were six of us kids – plus he had to go around the world. I guess because Mom was always getting everything done, I thought Santa could, too.
"So that's what Denny and I did our first few Christmases," she continued. "But not anymore! With kids' allergies, the tree is artificial, and now it goes up a couple weeks before Christmas and stays up until well after Epiphany. I like looking at it and want the Wise Men to see it, too! Because it takes a long time for me to decorate it with my collection of dollhouse ornaments and glass souvenir house ornaments, I leave it until I finally get tired of it. (I'm sure you notice there's no 'we' decorating and un-decorating at our house. But he's really good at putting the tree together and packing it away!)"
"Our family does an artificial tree; we currently have one that Shannon and I picked out together when we were still dating," William Byrd Choral Director Matt Bartley shares. "We also usually put a train under it, but that won't happen for another few years with a 17-month-old at home! The year Shannon and I were pregnant with our son Marek, we hung blue and pink ornaments up. Given that we host Thanksgiving, we had a fun time directing each arriving group to our tree and making them figure it out that we were expecting by pointing out our 'unique color scheme' selection for the ornaments that year. We still put our 'we're expecting' ornament in a prominent place on the tree."
"All my life until about eight years ago, we always had a live tree – in fact, I had two live trees, but we were given an artificial tree and convenience took over," said Kathryn Sowers. " I love holidays and decorate for every one and especially Christmas.  There is at least one tree in every room of my home – yes, the bathroom, too.  It makes me happy no matter what room I am in.  My ornaments are a collection from my parents, Everette's parents, travels, handmade and gifts.  Each one has a story and is very special."
Vice Mayor Sabrina McCarty says, "Christmas is my favorite time of the year! I love to decorate. This year we have three trees in our home, two artificial and one real tree. Every year I decide on a theme for my tree.  This year our real tree is a memory tree and every ornament on the tree, with the exception of the tree topper, was made by my niece and nephews when they were little.  One of our artificial trees is white, with red, white and blue lights, and blue and red balls – this tree is in honor of my handsome nephew who is currently serving in the Army and is stationed in Seoul, South Korea.  We miss him so much and we are very proud of him. My family is very close and we love being together, especially around the holidays."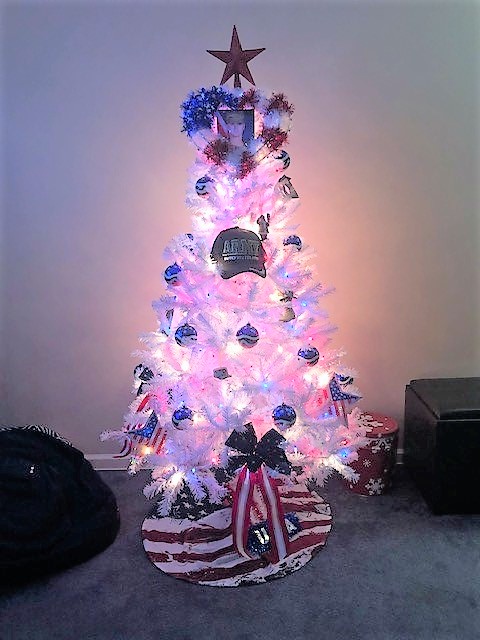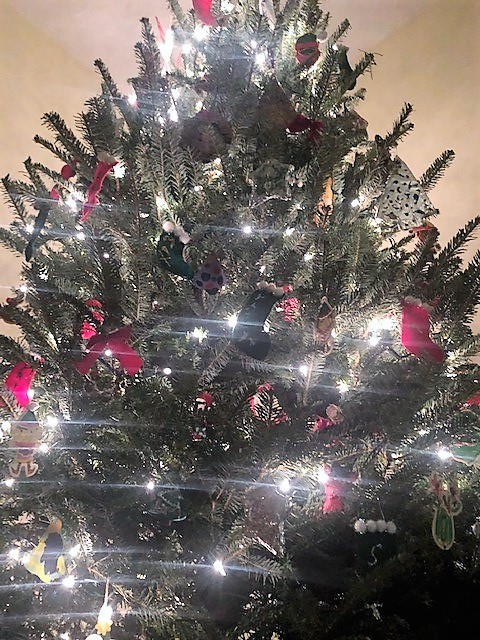 "Growing up, we always had a real tree," says Councilwoman Laurie Mullins. "I don't remember the exact dates of decorating and taking it down, but I'm sure it was after Thanksgiving and taken down by January 1.  Seems like I always heard an old wives' tale about it being bad luck to leave it up into the New Year. What I do remember and cherish are the ornaments!  Every year I received a gold (brass probably) ornament with my name and the year engraved on it.  Every year was a walk down memory lane when the tree was put up.  When Tommy and I married, we continued that tradition for a few years, and I know we got Natalie those ornaments for several years.  We must have stopped sometime around the years my Dad (2004) and Grandma (2008) passed, and now the same style ornaments from Lotz Funeral Home, with their names engraved, perch at the top of the tree just below the star in a place of honor."
Randy Layman, president of the Vinton Historical Society, shares, "For my family, we mix the traditions and ornaments of both the Laymans and the Fagans. Of special note, I still have flocked, colored glass ornaments lettered 'Merry Christmas' and 'Happy Holidays' that were on our family tree before I was able to walk on my own, and Mary Beth has these two tiny pine tree decorations which are very precious to her, and I'm sure are much older than she. These particular heirlooms are well-kept in their own little boxes for safekeeping but come out the occasional Christmas to be admired and fawned over.
"We generally pull everything out of storage (for the time we've been in Vinton – 1993 – it's been our attic and the basement for heat-sensitive decorations) around December 1; certainly by the first weekend after," Layman said, "with a tree set up that's usually a nice artificial, but sometimes we just feel the need for a live Fraser fir or blue spruce. It all gets put away by Epiphany on January 6.
"We're on our second year now with a Martha Stewart designer tree that nearly brushes our eight-foot living room ceiling. For many years now, Mary Beth has used a silver, white and crystal theme which really 'takes flight' with the white lights already installed on its branches," he said. "Mary Beth is the principal engineer for this project, as well as most all of the other inside and outside decorations. I fill in a few spots with an ornament or two, but am generally there for 'reach around and up' duty; plus the extra eye to see what's straight and not.
"When our boys, Aaron and Thomas, were young they would join in, but alas, they've both been away from us and on their own for over a dozen years now; with their main duty now getting the boxes of Christmas stuff down from and back up in the attic.
"Regarding the Layman and Fagan family Christmas tree legacies, they were much different from each other as I saw it. I imagine both our Dads earned about the same money in jobs involving mostly manual labor and neither of our Moms worked outside the home. In contrast though, my childhood home included six children (a seventh, my sister Norma Jean, married and left home less than nine months after my birth) and Mary Beth had only her brother Lenny at home; therefore, money was a little tighter for the Laymans. We usually made do with a tall narrow cedar tree; sometimes cut for free from a friend's or family farm, but always the cheapest choice. Also, my Dad liked the way they smelled. The Fagan's relied upon bull or white pines, usually from the property of friends or family; sometimes from down around Mary Beth's Mom Paulita's hometown of Hillsville.
"As far as outside was concerned, we made do with a string of those giant-bulb colored lights around our front porch," Layman said. "While the Fagans had the same some years, they added a large angel doll in the front entryway of their Northwest Roanoke home that seemed to float before the shiny blue foil covering the entryway's inner door. At her prior home in Garden City, they placed a large hand-painted Santa and a pair of handmade, over-sized candles on the porch. Again, at the NW home, on rare occasions, were inner-lit carolers, snowmen or Santa in his sleigh or such – sometimes on a rooftop, to usher in the Holiday Season. To top it all off was a hand-painted sign on the garage stating, 'Merry Christmas from Our Home to Yours.'
"Either way, Christmas has always been very special to both our families, long before we met and married, and we continue as a family to hold it dear in our hearts as well. We hope that in these challenging days that this season brings all of us some special comfort."
Judy Kelley says she is "very sentimental" and has always loved Christmas. She has been collecting Christmas ornaments and memorabilia her entire life. She lovingly decorates each and every room of her house for Christmas with a variety of trees of different sizes, and most with a story behind them.
Her living room features a traditional tree with antique red balls and many ornaments made by her and her children through the years, and many Hallmark ornaments bought from Bootie Chewning's Hallmark store in Vinton. It also has a bell she and her husband, Hooty – now married for 58 years – received as a wedding gift. There is an antique clip-on Christmas candle, the type that was burned briefly and very carefully on Christmas morning. There's a tree decorated entirely in purple.
"I have a large snowman tree in my sunroom and small ones throughout the house. I decorate like the Hallmark movies. I've always loved to decorate, so I have a little something in every room."
Kelley has Christmas collections of Nativity scenes, snowmen, homemade cinnamon-scented gingerbread ornaments, ceramic Christmas trees, Santa toys, Christmas pins, lighted Christmas paintings, and vintage children's Christmas story books and special Christmas cards.
She says it takes her a couple of weeks to put up the Christmas decorations, but not as long to take them down. The snowman tree will remain up until February.
Kelley says that when she was a child, "My brothers and I had to find the biggest sock we could find for our stockings. We would pin them on a chair or couch. We always got an orange and candy in them.  We always cut a cedar tree for our tree. Dad would buy lots of greenery on the market and bring it home on the bus, and Mom would make a wreath with a coat hanger. We usually got pj's, clothes, and maybe one toy."