By Debbie Adams
If you haven't had a dish or cone of frozen custard from Chris's Coffee & Custard on 9th Street in
Roanoke, it's time to stop by for a fantastic treat. While you are enjoying your dessert or
sandwich or pastry or coffee/cappuccino, you can also feast your eyes on the artwork decorating
the walls—currently featuring William Byrd High School art teacher Allyson Goin. Several
pieces of her work are on display and on sale at Chris's during September and October.
"Art at Chris's" is an art show partnership/fundraiser that benefits both local artists and the
young adult employees of Chris's Coffee & Custard.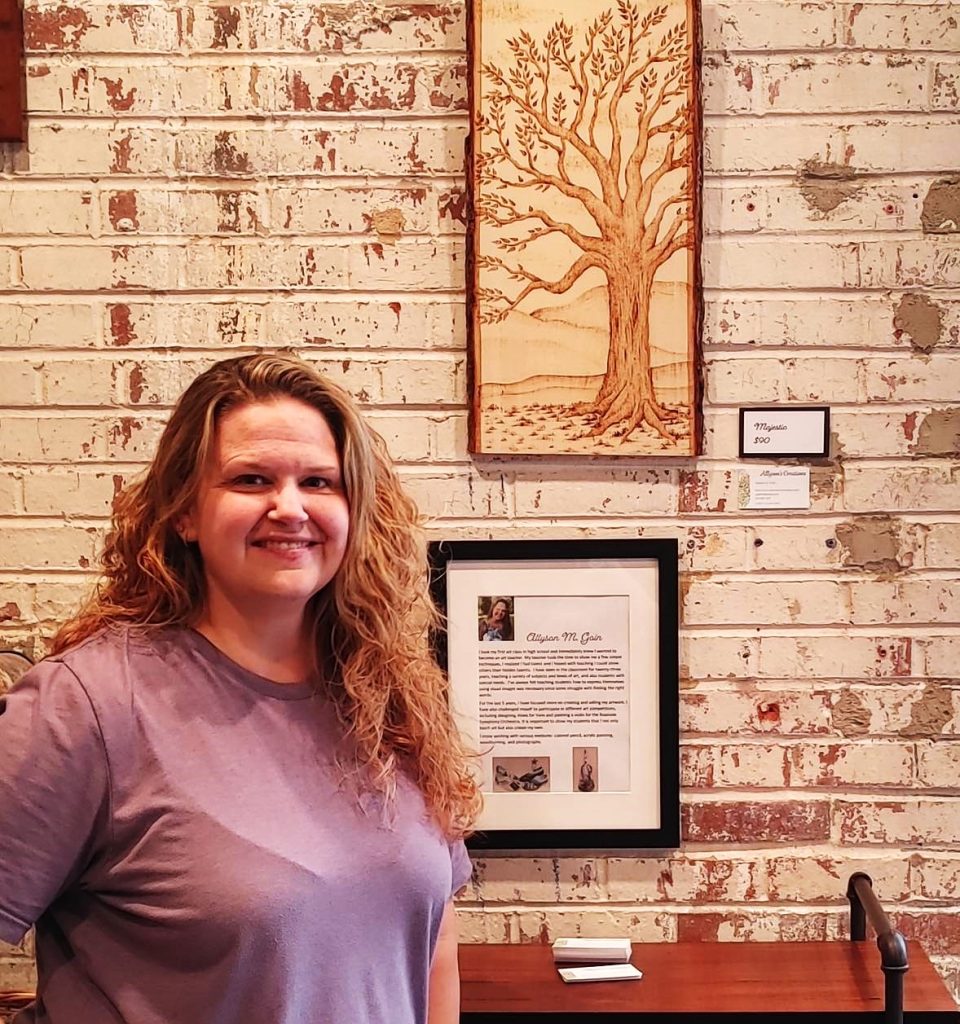 Chris's, established by Beth Woodrum and her son, Chris, opened in March 2021 to create job
opportunities for those with special needs. It has recently expanded to include a food truck for
special events.
Woodrum says she has been blessed with three awesome sons, including Chris who has Down
Syndrome. When he was nearing graduation from Cave Spring High School, she had a dream to
create opportunities for Chris and others in the community with special needs for gainful and
meaningful employment.
Their business empowers individuals with intellectual, developmental, and physical disabilities
through social, communication, and vocational skills training, especially those young adults who
have "aged-out" of school. Woodrum says that having a job helps build self-esteem.
On their business's website, Woodrum says, "Our most significant goal is to make a positive
change in a person's life. Having a job and receiving a paycheck will give them a sense of
dignity, purpose, and belonging, and help develop independence. These individuals with special
God-given gifts, talents and abilities will definitely create positive changes in our customers and
our community!"
As for the local artists who display their work at Chris's, they too benefit from the new art show
program. They receive 70% of the proceeds from the sale; the remaining 30% is a donation to
Love/ABLE Services/Chris's Coffee & Custard.
In planning the art shows, Chris's suggested art prices limited to $100. Artists who would like to
participate submit images of their work and a brief bio. When they are accepted, their artwork is
installed, titled, and priced. Customers may purchase pieces of art by cash or check. As their
works are sold, the artists are able to replenish their displays.
Goin says she was tagged by a friend on Facebook about the art show opportunity.
"I looked into what Chris's what doing, and I sent an email and applied to the person in charge,"
Goin says. "I was asked about displaying for the months of September and October.  "I wanted to participate for two reasons: I wanted to challenge myself by creating my own  artwork and putting it on display (and for sale) for others to see. I also felt it was a wonderful opportunity to be a part of raising funds for a great organization.
"I was blessed to know about Chris's when it was in the planning and early stages, so I have
loved watching how the Woodrum family has made such an impact in the community."
Goin says she is challenging herself and her students to take their art out into the community to
benefit the community. She, along with WBHS art teachers Denise Sartell and Alicia Spangler
and several Byrd students, assisted in painting the outdoor mural by Jon Murrill at Vinton
Veterinary Special Services Center last spring. Several of them participated in the 2023 SPCA
"Best in Show" art show fundraiser in Roanoke in March, and Goin was selected to participate in
the 2023 Painted Violin Project with the Roanoke Symphony Orchestra to raise funds for music
education.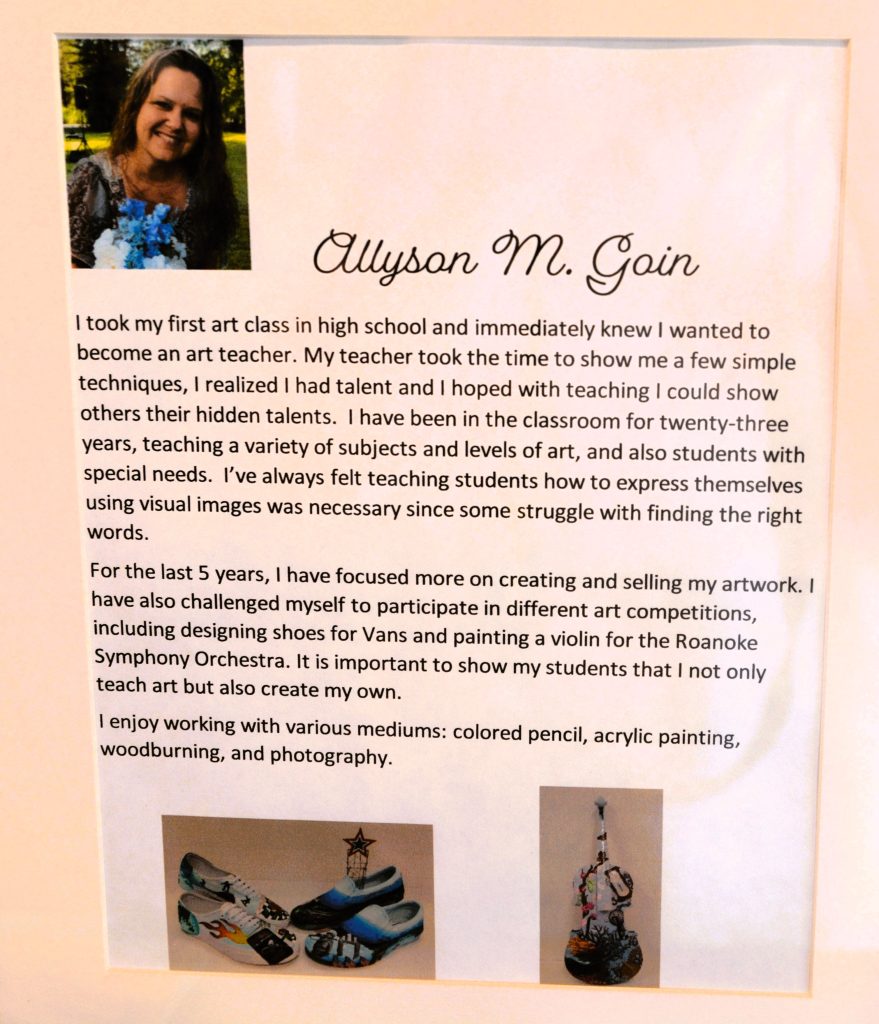 As for "Art at Chris's," Goin says, "I began with 17 pieces and have already had to replace art
that has sold. When a piece sells, they contact me so I can bring something new to put in its
place."
Her works on display feature wood burnings, acrylic paintings on wood and canvas, and acrylic
dot painting.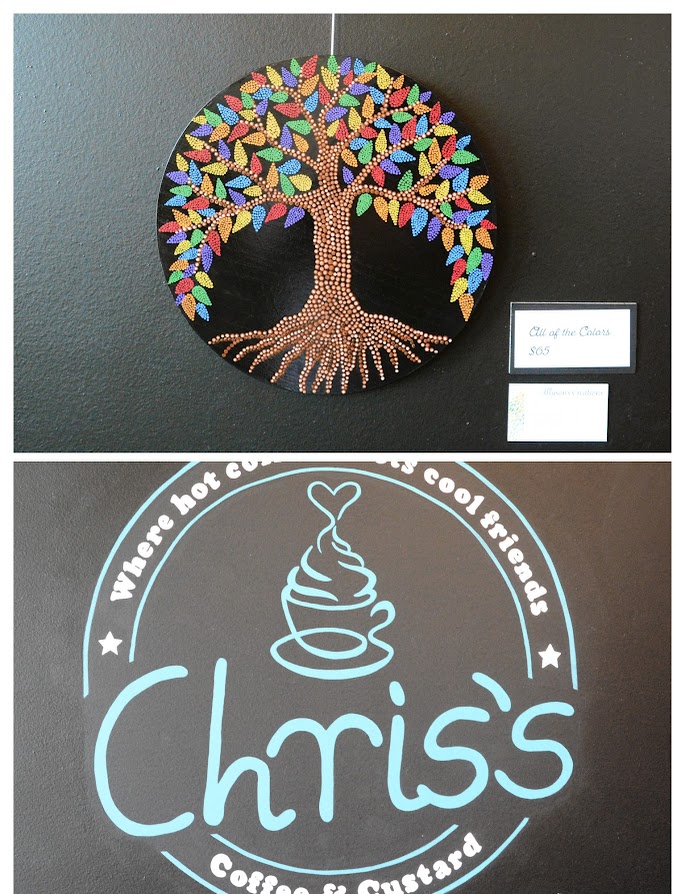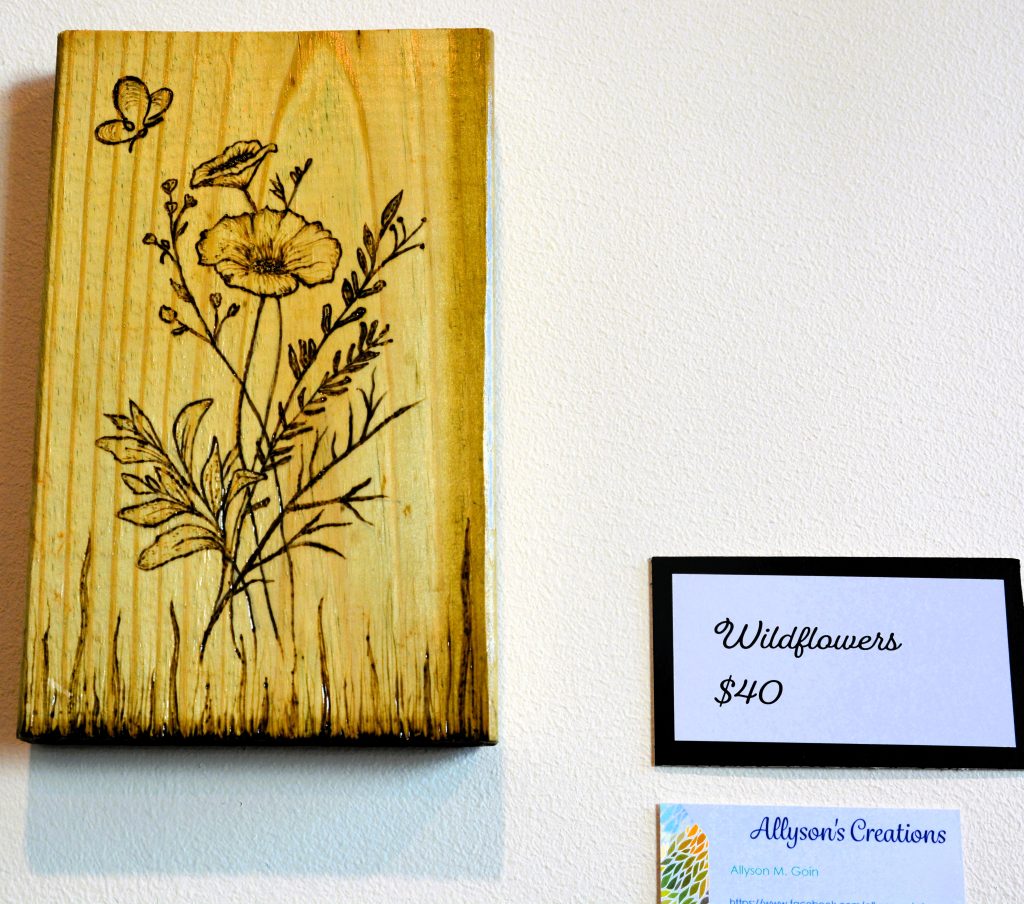 Chris's Coffee & Custard is located at 1824 9th Street SE in Roanoke.
For more information on Chris's Coffee & Custard, to view artwork currently on display, or to
apply as an artist to display your work, visit their website at
https://www.chrisscoffeeandcustard.com/ and Facebook page at
https://www.facebook.com/Chrisscoffeeandcustard/.
To see more of Goin's work, visit her Facebook pages at
https://www.facebook.com/allyson.goin/ and
https://www.facebook.com/profile.php?id=100093100539972.