By Debbie Adams
Matt Chen came to the United States from Beijing, China, in August 2019 to enroll as a freshman at Roanoke Valley Christian Schools (RVCS). Prior to coming to America, Matt had been studying online with Dreyer Coaching to improve his English speaking, reading, and writing skills. The online school was founded in 2008 by Scott and Deborah Dreyer of Vinton. Scott teaches English to Chinese-language speakers, mostly located in China and Taiwan. Deborah teaches Chinese to English speaking students.
Matt's family had discovered Dreyer Coaching through his father's co-worker whose son was studying with the school. Matt's online studies included 15 hours of intense instruction each week from 7 to 10 p.m., Monday through Friday.
Matt's mother, Lydia Du, a high school English teacher in Beijing, wanted him to come to America to continue his education because of the opportunities and possibilities available– to be an independent young adult, to explore a new environment, and to "experience a new kind of life," free from the intense pressure of Chinese schools.
In his studies with Dreyer Coaching, Matt had shown an aptitude for the English language and was already quite fluent before he arrived in Vinton.
At the time, Matt said while studying with online was very beneficial to improving his English language skills, he wanted "to try American school life." Studying online has many advantages including a more flexible schedule and no traveling to classes, but he wanted to "live the life."
When the family made the decision for Matt to live and study in the United States, Roanoke was the obvious choice since Dreyer Coaching was located here and one of the services offered by the Dreyers was boarding students during the school year. He felt comfortable with the Dreyers since they had already spent so much time together online.
Lydia has found the Dreyer Coaching team "very professional and committed to teaching Matt."
The Dreyers have raised four children, all grown and out of the house now, and also have grandchildren, so adding Matt brought minimal disruption to their lives. Scott says that Matt is very mature, adaptable, and "easy to live with."
Matt arrived in Vinton just before school opened in 2019. Scott had recommended RVCS because of their excellent reputation and their long history of a strong international program. Now in the 2021-2022 school year, RVCS has two students from Mainland China and three from Taiwan.
Currently a junior, Matt is enrolled in Calculus, Chemistry, American History, English, Bible, art, and computer courses, with art his favorite. He no longer studies formally with Dreyer Coaching in his off hours from school. However, the Dreyers seem to include English instruction in everyday conversation and make every effort to expand his vocabulary in a "natural environment," just as they would with their own children.
Matt has made excellent progress at the school in his three years there. He is already preparing for the next step in his education, taking his PSAT and SAT tests and considering various four-year colleges and universities.
He will also be taking the challenging Test of English as a Foreign Language (TOEFL) which measures the English language ability of non-native speakers wishing to enroll in English-speaking universities. The tests cover English reading, listening, speaking, and writing skills and are indicative of the ability to apply the language.
Scott says Matt's scores have been "awesome" and he is being recruited by colleges, receiving mail almost daily from schools "interested in him." Currently the University of Pittsburgh is at the top of his list, mainly because of friends there.
Matt is contemplating what to major in. Right now, he is focused on biology, considering a career as a physician's assistant.
Matt came to the United States with an interest in sports—in fact, a passion for badminton. Unfortunately, he has found little opportunity to continue with that sport, but he does play soccer—and quite well. In October 2021, he was awarded the coveted Coaches' Award at RVCS.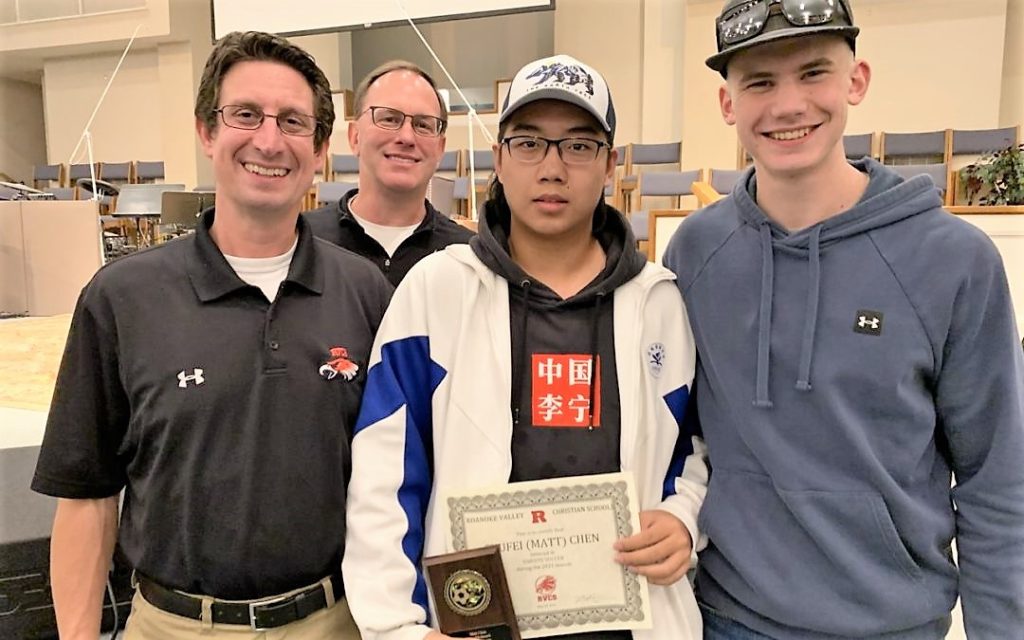 "This is a huge honor that shows his coaches not only appreciate his athletic skills, but also his leadership, character, and determination!" Scott said.
"Some people just have a commanding presence," his coach said in presenting the award. "Some may be in a place of authority or leadership; some may have strength or great physical gifts, but others may not.  They just have an attitude, a swagger, a confidence.  This player just has a swagger. A walk. It's like he's listening to some smooth jazz and the rest of us don't know what we are missing. Whether he is strolling onto the field or sauntering off, he is in charge."
"He has a quiet grace, and I can only remember him getting angry at the other team or the referee once all season, on a call he deserved.  If he got mad at other times, he expressed it in ways I couldn't understand.  He played the point position for us most of the season and ended the year with 4 goals and 1 assist, and his quiet and relaxed leadership at the front of our formation was important for some of our younger players.  It is for these reasons I awarded him the 2021 Coaches' Award; he was also a Virginia Association of Christian Athletics (VACA) All-State finalist."
Matt still communicates regularly on weekends with his family via Facetime and WeChat. His mother still teaches; his father, a chemist, has now retired. He says one of the challenges to living in America, separated from his family, is missing his younger brother, who is now 7 years old. He says his parents have discussed sending his brother to the United States to study, perhaps when he reaches middle school age.
The original plan was for Matt to spend the school year living in Vinton with the Dreyers, and then return home to his family in China each summer. That plan was disrupted by the pandemic, which struck in the spring of 2020. Because of all the health and travel restrictions, he was unable to return home to visit his family that first summer.
However, he did make it home to China last summer in 2021—although it was a long and complicated endeavor, almost overwhelming.
Matt began making plans in January last year, bought his tickets early for a May departure, but still had much to deal with on his way home to visit his family—COVID testing enroute, talks with consulates, quarantining for several weeks in San Francisco, Shanghai, and Beijing. Because he was under age 18 at the time, he stayed in AirbNB's, not a hotel. As a result, he'll be staying put in America this coming summer.
Matt has been able to do more traveling within the U.S. now that restrictions are easing. He visited Disney World over Thanksgiving with international student friends and looks forward to taking his family there when they are able to come visit.
Matt isn't driving yet, although that is on his to-do list. He has his learner's permit, but says he needs to buy a car before getting his driver's license. Since he is here on a student visa, Matt is not permitted to get a job, unlike many of his friends.
As for Dreyer Coaching, the school is still thriving. During these difficult times internationally the benefits of online English instruction are obvious—small student-focused classes of no more than six students; professional, experienced native-speaking English teachers, teaching in English with American textbooks; classes conducted safely at home available at any time, with parents able to observe; and classes offered year-round which can be accessed from anywhere in the world.
For more information on Dreyer Coaching, visit their website at www.Dreyercoaching.com or their Facebook page at https://www.facebook.com/DreyerCoaching.
FIND OUT MORE