By Debbie Adams
Carsyn Kotz was crowned as Vinton Dogwood Queen for 2023 at a ceremony at the Vinton Municipal Building on April 29.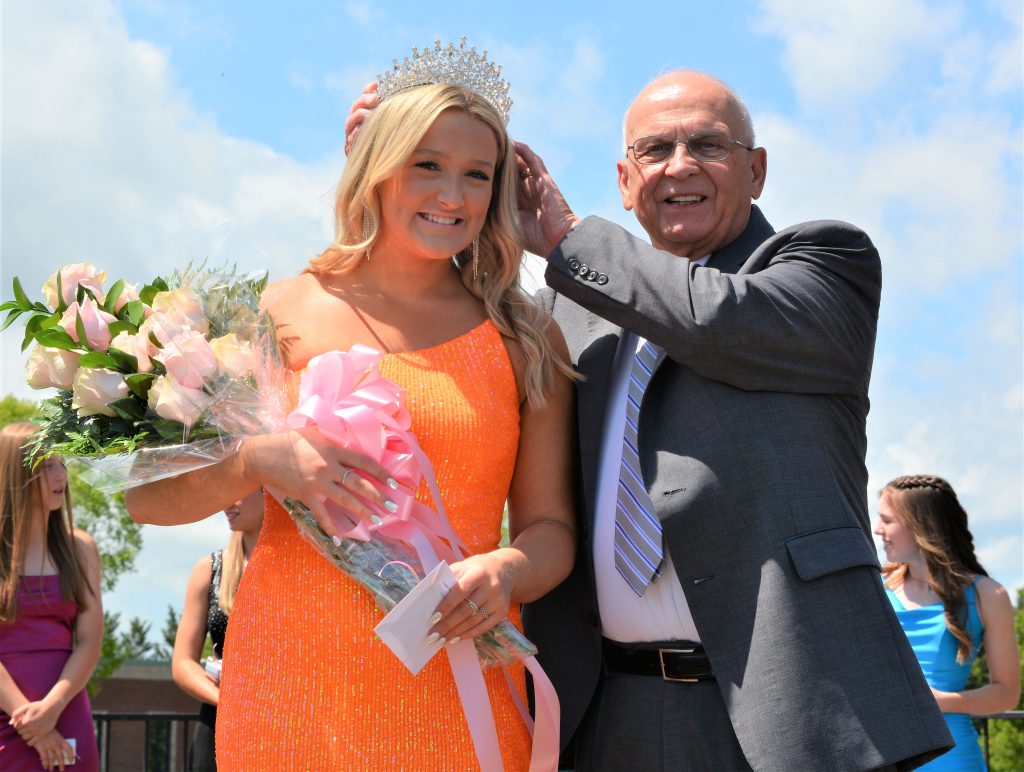 She was chosen by a panel of judges from among 10 bright, beautiful, and highly accomplished seniors at William Byrd High School. The nominees for Dogwood Court were selected by the faculty at WBHS.
Kotz is the daughter of Mitchell and Shawna Kotz. She was captain of the varsity volleyball team and was named 1st Team All District and All-Region, and Blue Ridge Volleyball Player of the Year. She is an officer in the DECA Club, president of the International Club, a member of the SCA and BETA Clubs, and a 2023 Valedictorian. She plans to attend Virginia Tech and study Elementary Education. She works at Carilion Wellness as a nursery attendant and front desk attendant.
The other nine members of the 2023 Dogwood Court were:
Ella Ashworth (parents Andy and Emily Ashworth)
Bethany Beecher (parents Grant and Amy Beecher)
Sophia Chrisley (parents Mark and Marci Chrisley)
Olivia Hurd (parents Chris and Taressa Hurd)
Lily Kroese (daughter of Lori and Theo Kroese)
Katelin Patrick (daughter of Keith and Ginny Lynn Patrick)
Kristen Patrick (daughter of Keith and Ginny Lynn Patrick)
Madeline Simmons (daughter of Brian and Samantha Simmons)
Bailey Warden (daughter of Denise and Steve Sartell and Matt Warden)

This year's Dogwood Court was made up of 10 seniors from William Byrd High School, nominated by the faculty for their academic standing and service to the community. Shown left to right are Kristen Patrick, Katelin Patrick, Lily Kroese, Bailey Warden, Carsyn Kotz, Mayor Brad Grose, Madeline Simmons, Ella Ashworth, Olivia Hurd, Sophia Chrisley, and Bethany Beecher.
The ceremony opened with the singing of "God Bless America" by vocalist Floyd Boone, a welcome by Dogwood Festival President Dr. Jeff Teass, and remarks from Vinton Mayor Brad Grose.
"The young women comprising the Queen's Court today are members of this year's Senior Class of William Byrd High School," Grose said. "Their selection to the court is based on academic standing and their volunteer service to the entire Vinton community. They are all winners and worthy of the title of Dogwood Queen."
The mayor thanked Dr. Teass and the Dogwood Committee for "moving us into a new, exciting era of the Vinton Dogwood Festival."
He individually thanked Susan Teass and Nita Echols of the Queen and Court Committee for their hard work leading up to the crowning of the Queen, and Roanoke County Commissioner of the Revenue Nancy Horn and her staff member Heather Langford for decorating the horse-drawn carriages the court would ride in during the Dogwood Parade. He also expressed his appreciation to the Vinton Police and Public Works Departments, and the entire town staff, for their dedication and diligence in preparing for the Dogwood Festival and making it a success.
"How blessed we are to live in a community that is willing to accept change and move forward, while at the same time preserving our great traditions, such as the Dogwood Festival and the Dogwood Queen and her Court.
"The combination of change with tradition has set up a powerful dynamic that is propelling Vinton into a truly exciting future."
Mayor Grose announced the names of the Dogwood Court nominees who were presented with gifts of dogwood necklaces, and then crowned Kotz as the new queen.
She was presented with a scholarship for $750 by the Vinton Dogwood Festival Committee. WBHS/Burton Center for Arts and Technology students Cole Genaro and Divya Tennant received scholarships in the same amount for designing the new Dogwood Festival website. Their teacher at BCAT is Sarah Cubberly.
A reception followed in the Municipal Building and then the young women boarded two horse-drawn carriages to parade through the downtown streets and again later in the Dogwood Festival Parade.