By Debbie Adams
Four William Byrd High School students who are also enrolled in the Roanoke Valley Governor's School for Science and Technology (RVGS) participated in its annual Project Forum on Feb. 4.
William Byrd sophomore Meera Raichura placed first in the Plant Science B category with her project entitled "The Effects of Neodymium Magnets on Plant Growth and Germination." Her purpose was to test the hypothesis that a neodymium (rare earth) magnet would have an effect on plant growth and health. She attached zero, two, or four magnets to containers where seeds were germinating and compared pigmentation and mass to evaluate their impact. This is her second year in the Governor's School program.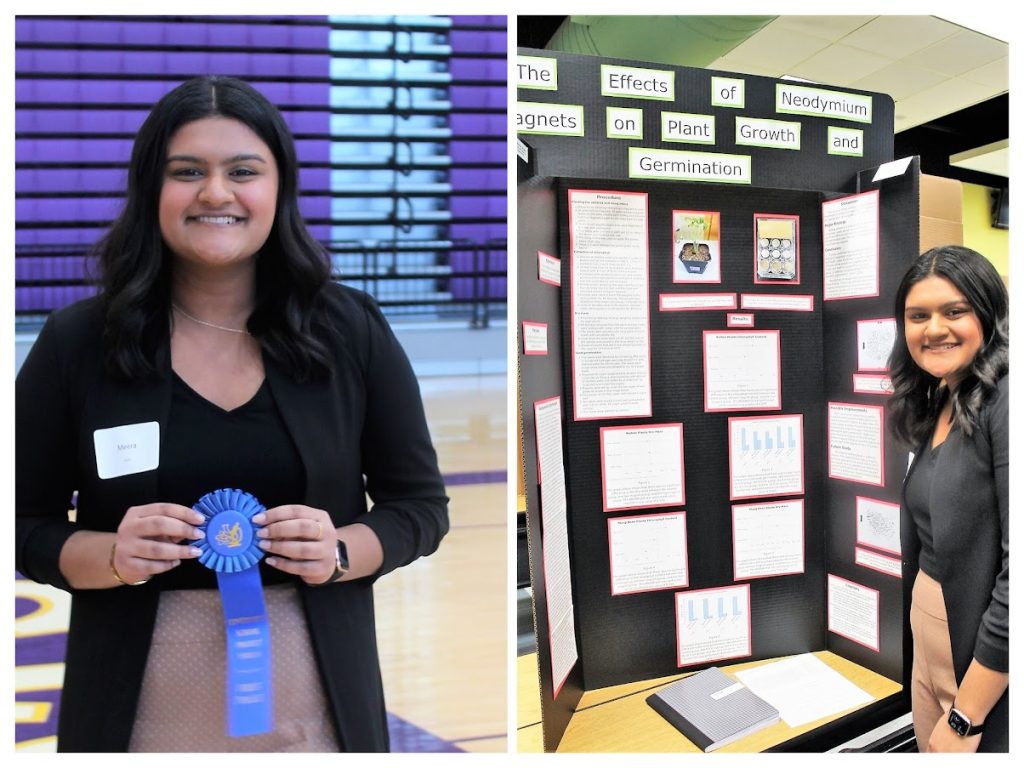 Junior Griffin Yakob placed second in the Computational Biology category with his project on "Determining the Applicability of Peripheral Blood Biomarkers for Lung Adenocarcinoma Diagnosis." His research questioned whether a blood test can be used to detect this specific form of lung cancer. This is his third year at the Governor's School.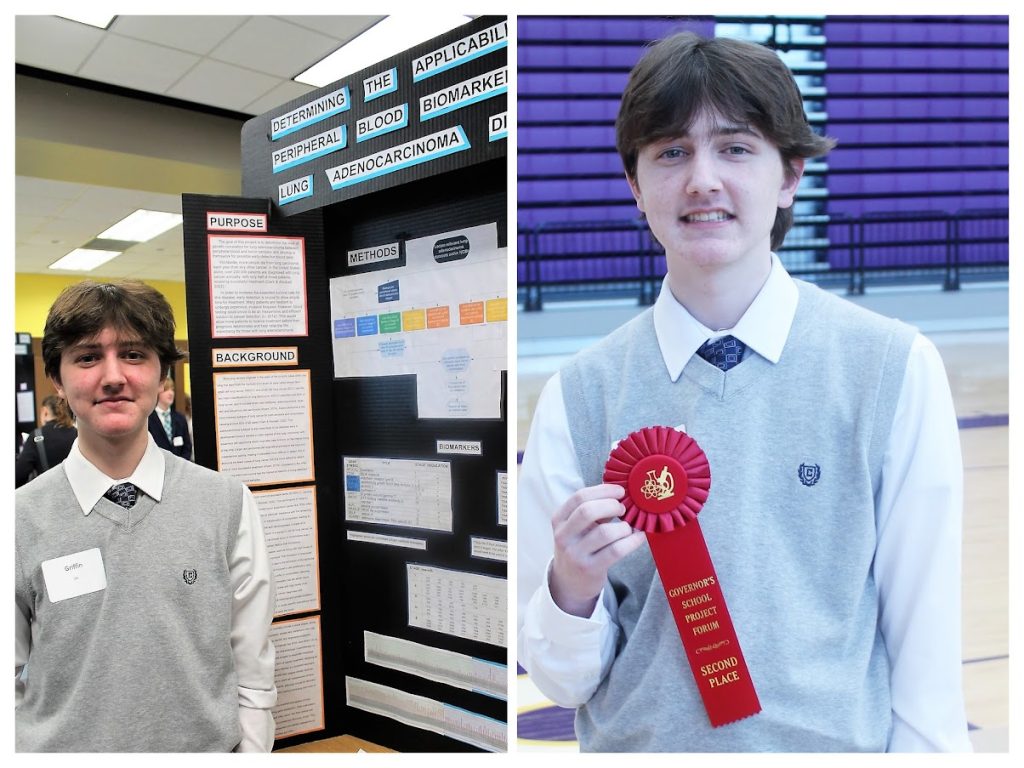 Senior Maggie Parkhurst placed third in the Computational Biology category with her project "A Machine Learning Diagnostic Tool to Predict Alzheimer's Disease Using Blood-Based Biomarkers."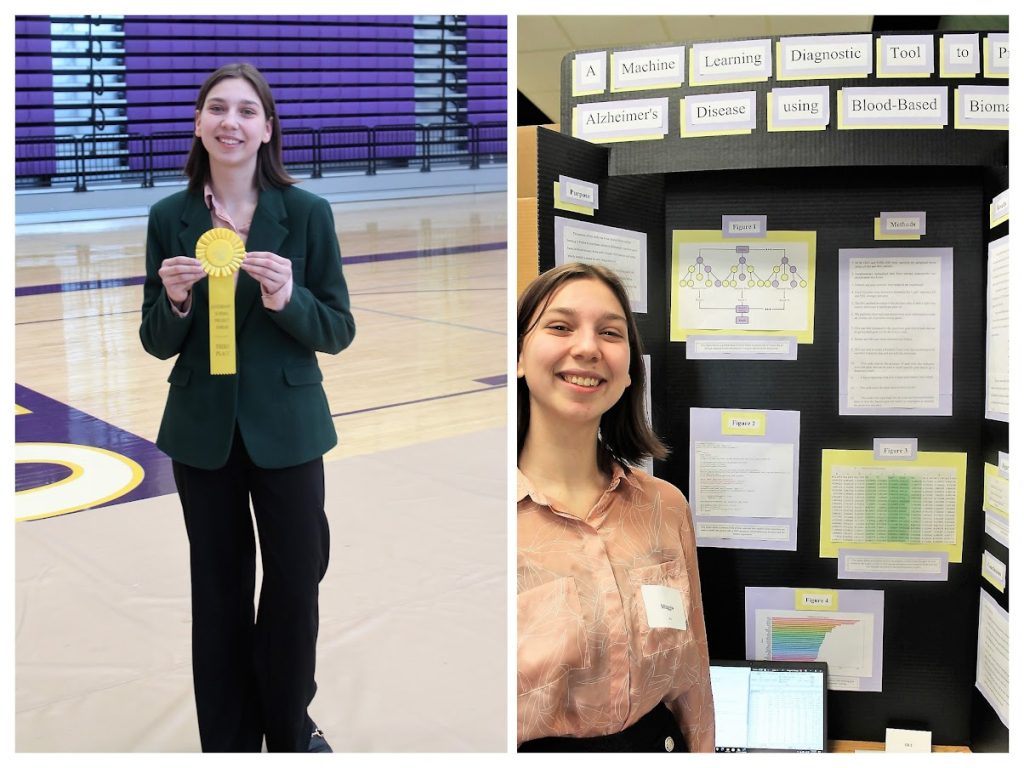 Freshman Gabrielle Romeo and her project lab partner, Sophia Zeng of Hidden Valley High School, investigated "The Synergistic Effect of Cinnamon Leaf and Bark Oil on E. coli."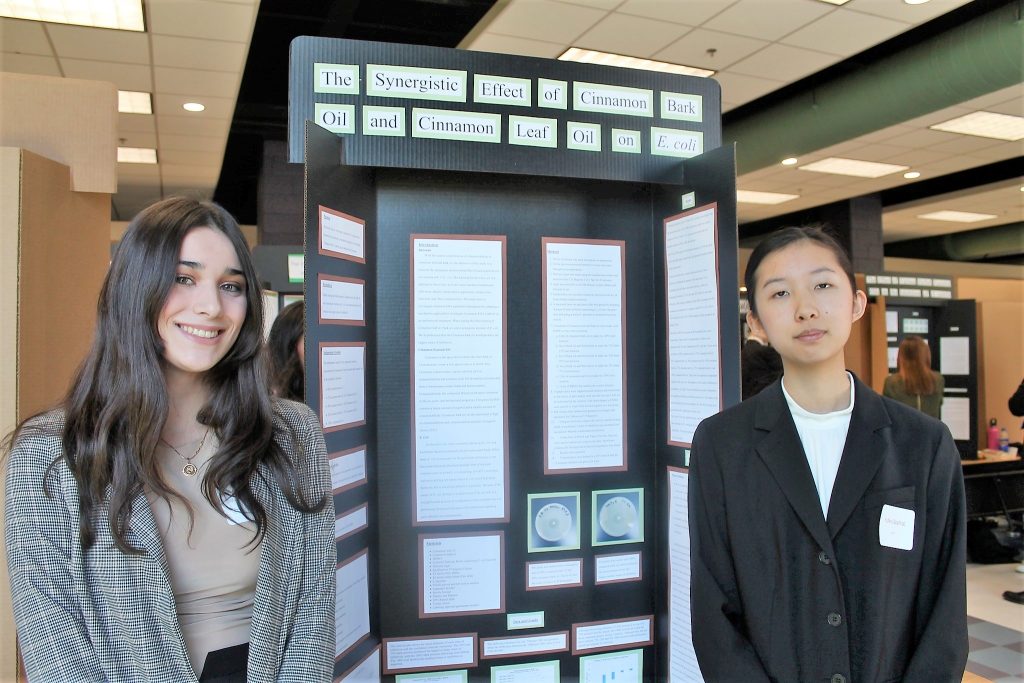 The prestigious Roanoke Valley Governor's School is a half-day regional public STEM school for highly motivated students in grades nine through 12. It is located on the campus of Patrick Henry High School in Roanoke City.
The school is supported by the Virginia Department of Education and seven public school divisions around the Roanoke Valley including Roanoke County (all five high schools), Bedford County, Botetourt County, Craig County, Floyd County, Franklin County, Roanoke City, and Salem City.
RVGS was established as one of the original five Academic Year Governor's Schools (AYGS) in Virginia. As an AYGS program, RVGS receives funding from the participating school divisions and the state. The school is a regional program, operated and governed by the RVGS Regional Board populated by one member of each participating division's local School Boards.
The Roanoke Valley Governor's school opened in 1985 and currently serves 270 students. Interested students apply to the school; admittance is selective. Parents do not pay a fee for their children to attend; costs are covered by the school districts and the Virginia Department of Education
According to the RVGS, "The building provides a home for collaborative learning by students and teachers. The science labs contain state-of-the-art equipment for use in the science classes and student research projects.  Specialty labs for biotechnology, environmental science, chemistry research, nanotechnology, and engineering fabrication are available for student and teacher use.  The engineering lab contains a stress/strain testing apparatus, milling machine, 3-D printers, laser engraving/cutter apparatus, and a range of manufacturing equipment for constructing engineering projects.
Mathematics classrooms provide a space for innovative teaching through technologies such as computer-interfaced data collection equipment, smart panels, and software such as Python.
The regional program allows participating school systems to concentrate resources in one place that all the school districts can take advantage of without the high costs of equipment and programs for individual districts.
In the past, the annual Project Forum has been referred to as "a science fair on steroids." Students prepare for months for the competition, including the entire month prior to the event.
This year's competition represented several scientific disciplines including Animal Sciences, Plant Sciences, Behavioral and Biomedical Sciences, Cellular and Molecular Biology, Chemistry/Energy/Materials Science, Computational Biology, Earth and Environmental Systems, Engineering Mechanics, Environmental Engineering, Microbiology, and Systems Software.