The William Byrd girls wrapped the Blue Ridge District regular season soccer championship last week. Tonight, they'll try to add the BRD tournament trophy to the case in the school lobby.
Top-seeded Byrd will host second seeded Lord Botetourt on Vinton's Jeff Highfill Field in what is expected to be a spirited game for the district tournament crown. The Byrd girls come in at 13-1-3 and Lord Botetourt is 12-2-3. In their two regular season meetings the two rivals battled to a draw, with a 2-2 tie in Daleville and a 1-1 tie in Vinton. This one won't end in a Mexican Standoff, as it will be played to conclusion to determine who takes the big trophy.
Byrd's only loss of the season was a 1-0 defeat to non-district Hidden Valley over a month ago, on April 14. In the last 10 games Byrd has won nine of the 10 along with a tie against LB.
The Terriers clinched the BRD regular season championship with an 8-0 win over William Fleming in Roanoke last Friday. The scoring started early when Maddy Simmons beat the defenders and scored two minutes into the game, and Simmons also had the second goal of the night off an assist from Addi St. Clair.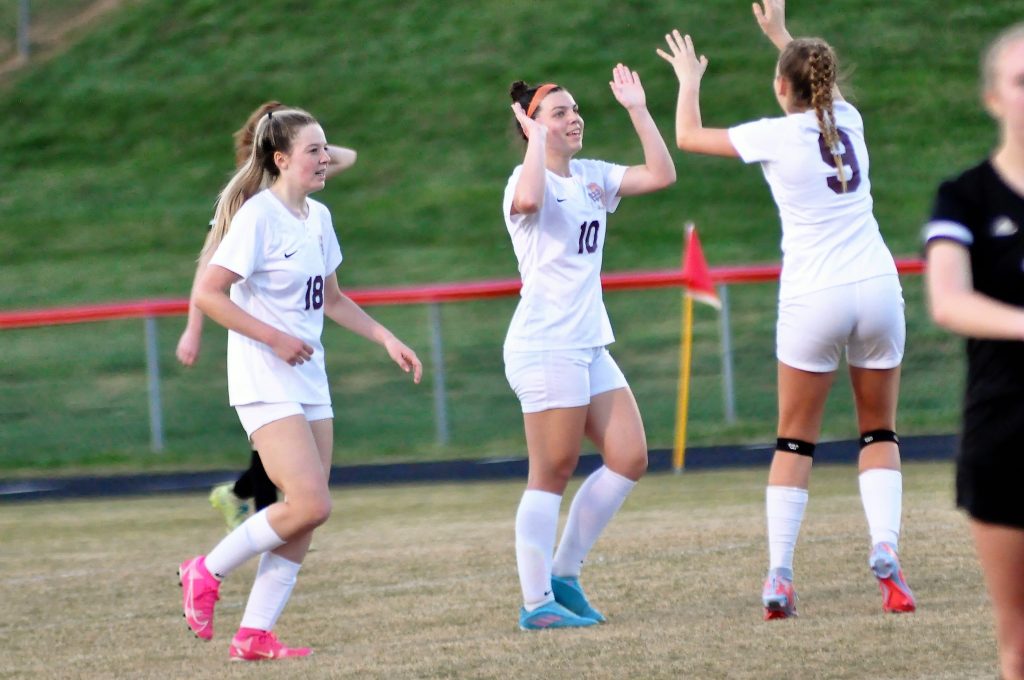 Logan Andrews scored the third goal off an assist from Ella Ashworth, and St. Clair made it 4-0 off an assist from Emma Gordon. Claire Glover then hit the net off an assist from Madeleine Wolters'Argenio, making it 5-0. Martina Mihelcic scored the sixth goal of the night and Andrews scored again off an assist from Eva Brown and it was 7-0 at the half. Wolters'Argenio scored the last goal of the night off an assist from Maci Glass to end the game by slaughter rule, 8-0.
The district tournament opened Monday and Byrd had a first round bye as the top-seed, as did Botetourt with the second seed. Byrd hosted Franklin County in the semifinal round Tuesday and took a 6-0 win over the Eagles. Simmons had both goals in the first half, one off an assist from Ashworth and the other from Glover.
The Terriers put it away after intermission. Gordon made it 3-0 on a rebound shot, then Simmons scored two more with assists from St. Clair and Andrews. With 26 minutes remaining Andrews would make it 6-0, and that was the final.
Byrd has won by shutout 10 times this season with Sophia Chrisley in goal a majority of the time. The Terriers have given up just eight goals all season and only once, in the 2-2 tie with LB, have they given more than one in a game.
Regardless of what happens tonight, Byrd is sure to have a high seed when the Region 3D schedule is announced at the end of this week.