The William Byrd football team rallied in the second half but their comeback fell just short as they lost their season opening football game last Friday. The Terriers dropped a 33-28 decision to visiting Liberty at Vinton's Patterson Stadium.
"We worked hard to have the opportunity to earn a win, but our team learned more about ourselves," said Byrd coach Brad Lutz. "We played a tough Liberty team, and we put ourselves in a deep hole in the first half, but our team was able to show mental toughness in a difficult time of the game."
Liberty scored the first two touchdowns of the game to take a 13-0 lead. Byrd answered with a one yard run by Israel Hairston but the Minutemen hit a big play with a 50 yard run and led 20-7 at the half.
The Minutemen scored first in the third quarter, on a 21 yard run, and at that point led 26-7 and had the Terriers on their heels. However, the Byrdmen did not give up and rallied to make it a game with three stops and three touchdowns down the stretch.
"At halftime, we were able to make some adjustments that helped us on offense and defense," said Lutz. "While we didn't earn a win, our team gained some identity when we came out after halftime trailing big. Our players worked hard to get the game within one score. As a young team, we needed to find that within ourselves early in the season."
Israel Hairston started the rally with a 53 yard touchdown run, then hit his brother Ethan on a 35 yard TD pass to cut the lead to one score at 26-21 with plenty of time remaining. However, Liberty scored again for a 33-21 lead, and that was too much to make up despite a nine yard TD pass from Israel Hairston to Dominic Dulak that accounted for the final score.
"We played well at times, but still need to improve in all phases," said Lutz. "We need to continue to improve with assignment execution. Football is the ultimate team game, and team success is determined by individual execution."
Lutz was pleased with the execution of his special teams, especially in an early season game.
"I was very pleased with the play of our special forces," he said. "Our kickoff return team did a fantastic job executing the game plan and put us in good field position on every return."
Statistically, Israel Hairston had a big night with over 300 yards of offense. He was 10 for 19 passing for 215 yards and he carried the ball 20 times for 103 yards. Israel threw two touchdown passes and ran for another.
Dulak had 104 yards in receptions while Ethan Hairston had 59 yards and Dillon Anderson had 52.
On defense, Dustin Richards led with 11 total tackles. Caleb Thompson had seven tackles, including one for a loss, and forced a fumble. Hunter Richards had six tackles and a forced fumble.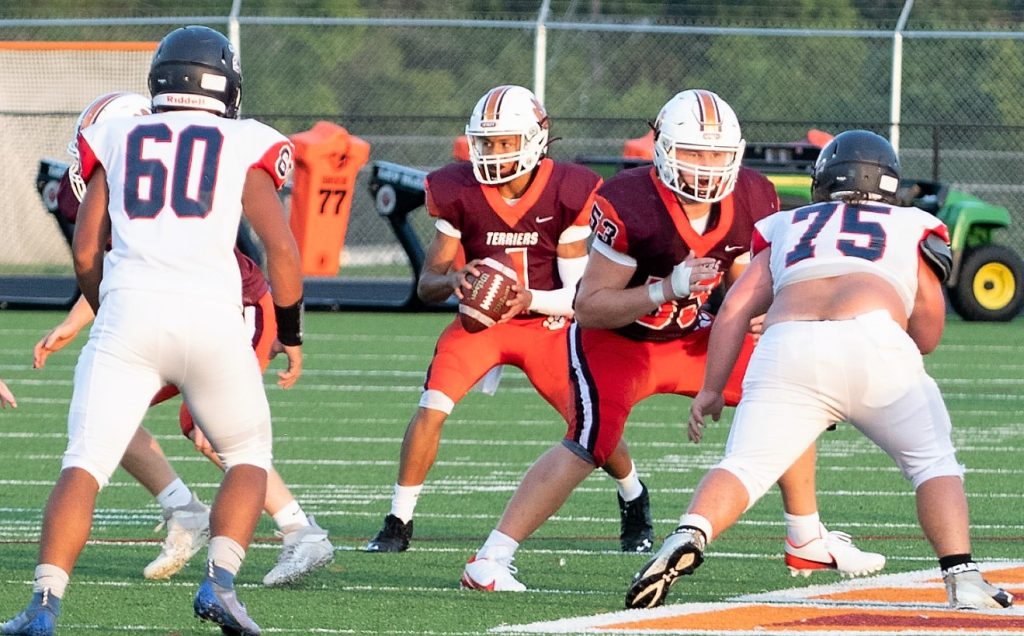 The Terriers will look to pick up their first win when they return to Patterson Stadium this Friday to host Hidden Valley. The Titans opened their season with a 14-12 win over Cave Spring last week.
"Hidden Valley is a tough team with a lot of experience," said Lutz. "They're coming off a big win over Cave Spring and have tons of momentum coming into our game. Their offense is very explosive and they have an outstanding quarterback(Sam Dragovich who threw for 291 yards against Cave Spring). Their defense is big and strong and is led by a Division 1 commitment at linebacker."
Game time is 7 pm Friday night in Vinton.