Roanoke County Public Schools Transportation bus driver Jimmy Houff has posted a message for the students he transports on the message board at the Vinton Farmers' Market–to tell them how much he misses seeing them every day.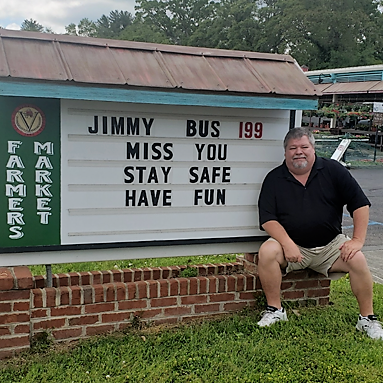 Houff drives bus # 199, taking students to and from W. E. Cundiff Elementary, William Byrd Middle, and William Byrd High Schools.
Houff says that because of the Coronavirus Pandemic, bus drivers were "not able to properly end the school year."
"We were unable to congratulate graduating seniors who had ridden our buses for many years," said Houff. "We were also not able to say goodbye and good luck to the many students whom we interacted with on a daily basis."
"This is my chance to tell the students of Montgomery Village and all of the students in the Roanoke Valley that they are being missed by their drivers. We want them to be safe and have a good summer. We are looking forward to getting back to normal and seeing them again at the beginning of the next school year. A little humor doesn't hurt! Thanks to the Town of Vinton for allowing me to use their sign for this message."
Houff is a retired Vinton Police officer.