Assistant Finance Director Lydia Verdillo has retired from the Town of Vinton effective August 31, 2022.
"Lydia Verdillo was hired as a Financial Analyst in the Finance Office in 2005 while I served as Treasurer/Finance Director," said former Vinton Town Manager Barry Thompson. "Lydia proved to be a very hard working and meticulous team player on the Finance Team. She mastered the town's payroll, accounting and tax systems as well as helped improved the day-to-day operations of the Finance Department. Lydia always welcomed challenges and new projects. She assisted me in establishing good accounting practices for the Town and establishing a finance procedural manual for the finance department as well as being a key liaison with our auditors for our annual audit. Lydia's hard work and work ethic resulted in her being promoted to Assistant Finance Director.
"Lydia was what I considered a star employee and was recognized by her fellow town employees for her ability and excellent work ethics on several occasions as well as being an Employee of the Year," Thompson said. "Lydia's retirement will be a great knowledge loss for the Finance Department as well as for the Town of Vinton. She was a great employee and always willing to assist me."
Verdillo was the first person named Town of Vinton Employee of the Year when the award was established in 2016. She was then serving as the Senior Financial Analyst for the town. The award was created that year "to "recognize employees who have served the Town of Vinton in an exceptional manner, by exemplifying outstanding service through his or her work, and have exhibited a positive and supportive attitude." She was nominated by co-workers, chosen by a committee, recognized at the Employee Holiday Luncheon that December, and presented a plaque.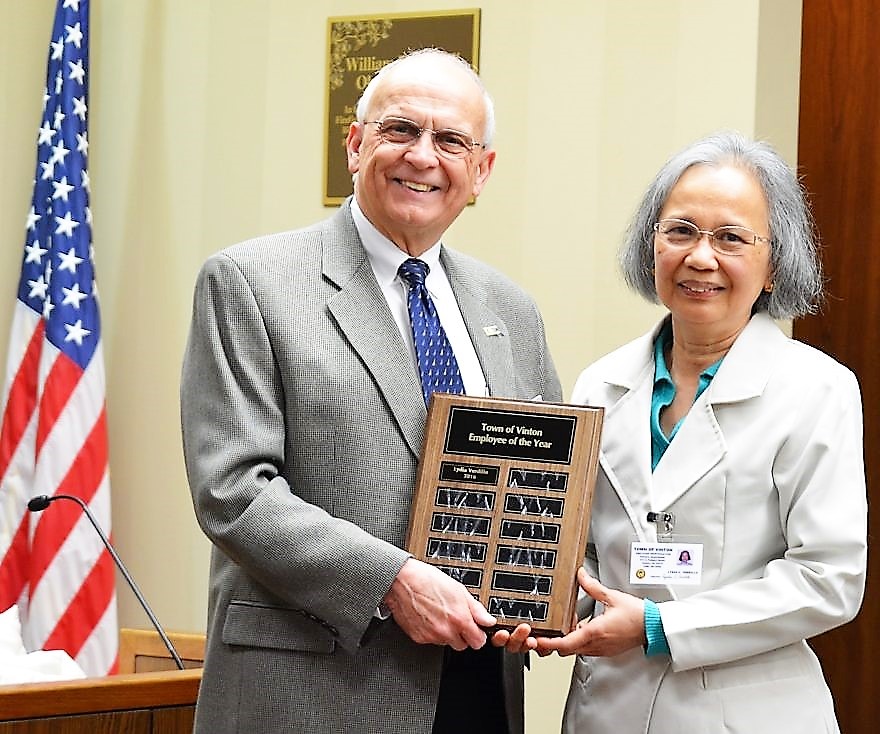 Verdillo was employed by the town for about 17 years. She held several different positions in the Finance Department and worked with several Finance Directors and/or Treasurers including Barry Thompson, Anne Cantrell, Cody Sexton, and Andrew Keene.
She was born in the Philippines where she earned a degree in Elementary Education and another in Commerce with a major in accounting, and her Master's in Business Administration.
During her years with Vinton, Verdillo was responsible for time sheets and payroll, was the main "reconciler" for financial operations in the town, prepared monthly, quarterly, and annual reports on revenues and expenditures, paid state and federal taxes for the town, in addition to dealing with the public by answering questions about tax bills and other concerns.
She described payroll as "the most sensitive task" she handled.
Former Vinton Finance Director/Treasurer Anne Cantrell says "Lydia is an exceptional person whose hard work ethic was unparalleled during my tenure in Vinton. She was passionate about her work and always had a positive outlook. I know Lydia has left a lasting impact on the community, and I wish her a very blessed retirement!"
"Lydia has been a steadfast presence in the Town's Finance Department," said Assistant Town Manager Cody Sexton. "She has been an amazing employee and a great friend. She is a model for us all, and I wish her the best in her retirement."
Vinton Mayor Brad Grose thanked Verdillo for "the opportunity to have known you. Thank you for all the excellent work you have done for the Town of Vinton. You have been a great example for all of us that want to be part of a successful organization. Your hard work and dedication have always been admired by many of us that had the pleasure to watch your work in the Finance Department. In addition, you have been a very gracious lady who never sought recognition or special attention. It has truly been a pleasure to work with you! I hope you enjoy your retirement."
"Not only was Lydia exceptional at what she did, she is an even better person," said Town Manager Pete Peters. "She had a warm glow about her and cared deeply for her team. She was also a great mentor for many employees who worked for the Ttown, was a relentless worker, and the true definition of dependable and loyal. Oh, and not to mention, she is an amazing cook who regularly baked and brought in dishes for birthdays and special occasions. Lydia, you are a very special person and will be missed greatly!"