By Debbie Adams
Arabella Permanent Makeup and Advanced Esthetics, LLC officially opened in Vinton on July 22 with a ribbon-cutting ceremony with the Vinton Area Chamber of Commerce. Melissa Dillon is the owner and sole employee of the business, located at 1211 Hardy Road.
She offers many services to her clients:
Esthetic Services including chemical peels, dermaplaning (exfoliation), facials, tinting, facial waxing (lip, chin, and brow), lash lifting, lash and brow tinting, and cosmetic teeth whitening.
Permanent makeup services including: micro-bladed eyebrows, permanent eyeliner, and permanent lip color. Permanent makeup is done with the use of a pen-like tool containing cosmetic pigments that tattoo the skin to create the look of makeup.
She encourages classic styles and neutral, flattering colors that enhance a person's natural look.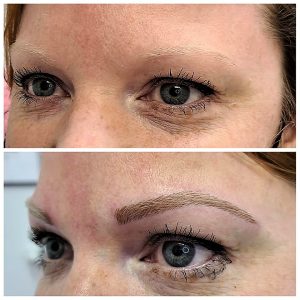 Dillon first opened her studio at The Hair Co. in Vinton in December 2019. Shortly afterwards, in March 2020, the pandemic struck, and hair salons were near the top of the list for closures due to COVID-19 and the personal nature of services rendered. Most salons remained closed for several months and were slow to reopen due to health guidelines and restrictions.
Dillon says she is grateful to The Hair Co. for the opportunity they gave her.
She relocated in September 2020 to her current location, just across from W.E. Cundiff Elementary School.
Dillon grew up in the area and graduated from Staunton River High School with the Class of 1988. (Her son is a junior at William Byrd High School.)
She worked for several years at Precision Fabrics Group (PFG) in Vinton and then earned her certification in massage therapy in 2008.  In 2010, Dillon became the spa manager at the prestigious Primland Resort in the Blue Ridge Mountains of Patrick County, where she led the spa team to achieve a Forbes Four Star status. She remained there for five years.
In 2015, Dillon moved back to Roanoke to be closer to her family and completed her Master Esthetics and Permanent Cosmetic licenses. She is a state-licensed Master Esthetician and Permanent Cosmetic Tattooer.
She trained at the Belle Sante School of Esthetics in Roanoke for her esthetics certification. Her training in Permanent Makeup comes from Samira's Permanent Makeup Center in Greensboro.
Once pandemic restrictions were lifted, Dillon said, things became very busy with clients eager to spruce up their appearances and get back to normal life.
While the term "permanent makeup" implies a one-time procedure, Dillon emphasizes that hers is not a transient business. She sees many repeat clients on a regular basis for facials, waxing, and other esthetic services, along with many new customers who have discovered her through social media and word-of-mouth recommendations.
Recently, two women who learned about her services on social media traveled from Washington, D.C. for her procedures. While they were here, they spent some time looking around the town; and eating at Joe Goodpies restaurant, which Dillon had recommended.
Dillon says the reasons clients seek esthetic services and permanent makeup are varied. She sees:
People with sparse or no hair in the brow region due to prolonged waxing or tweezing, age-related hair loss, or hair loss due to medical conditions and treatments.
Those who have trouble applying makeup due to vision loss or motor skill impairment so that it has become a physical challenge.
Some with asymmetrical areas which they want to appear balanced.
Athletes who perspire heavily, beach-goers, and swimmers who find maintaining makeup an inconvenience.
People who want a flawless, polished makeup look.
Those who are allergic to traditional makeup.
Some with active lifestyles, like business professionals, with limited time for makeup application.
Services and pricing are available on her website at www.arabellapmu4u.com/. Prices include an initial consultation, the procedure itself, follow ups, and potential touch-ups.
Dillon offers discounts for multiple permanent makeup services and gift certificates.
She says the procedures for permanent makeup application are "not painful, but not entirely painless." She uses appropriate numbing when indicated for comfort. She insists on strict aftercare for her clients, providing instructions and needed products.
Dillon says she loves her work and finds it extremely rewarding to provide treatments that help her clients boost their confidence, improve their self-esteem, develop a healthy body image, and "leave them smiling in the mirror."
For more information or to make an appointment with Dillon, call or text her at 540-761-8177, contact her through her Facebook page, or email her at melissa@arabellapmu4u.com.